Goldman Stock Slides On Report Fed Probing Consumer Business
It's been an ugly week for Goldman Sachs shareholders (big revenue, eps miss, loan loss provisions soared) and employees (biggest round of layoffs ever announced); but, if The Wall Street Journal is right, things just got a lot worse.
According to people familiar with the matter, The Fed is probing Goldman's consumer business to determine whether the bank had appropriate safeguards in place as it ramped-up lending.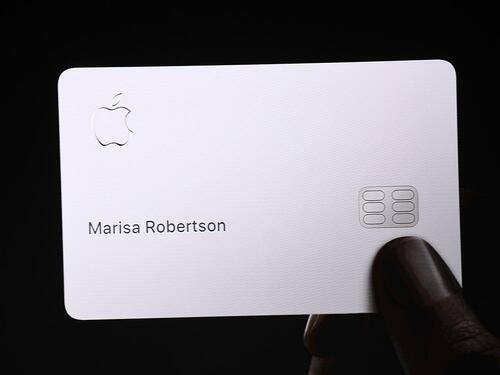 WSJ reports that the regulator has concerns that the bank didn't have proper monitoring and control systems inside the consumer business, known as Marcus, especially as it grew larger
The probe reportedly grew out of a standard Fed review of Goldman's consumer business, which started in 2021, people familiar with the matter said.
It intensified to an investigation last year, they said.
This should not be a surprise to ZeroHedge readers as we detailed in September that how Goldman Sachs had switched from betting against Subprime (Residential Mortgage Backed Securities and their various synthetic and "squared" derivatives) to betting with Subprime (hoping to profit off America's sub-660 FICO population by lending to it).
Goldman's credit card business, anchored by the Apple Card since 2019, has arguably been the company's biggest success yet in terms of gaining retail lending scale, but rising losses threaten to mar that picture.

But now, post the COVID money-drop and various moratoria on payments/bankruptcies/delinquencies, the fecal matter appears to be starting to strike the rotating object as JPMorgan note points out that while competitors like Bank of America enjoy repayment rates at or near record levels, Goldman's loss rate on credit card loans hit 2.93% in the second quarter.

That's the worst among big U.S. card issuers and "well above subprime lenders," according to JPM analyst Vivek Juneja.

Even more notably, Goldman's losses are also higher than that of Capital One, the largest subprime player among big banks, which had a 2.26% charge-off rate.

"If there's one thing Goldman is supposed to be good at, its risk management," said Jason Mikula, a former Goldman employee who now consults for the industry.  

"So how do they have charge-off rates comparable to a subprime portfolio?"

None of that should come as a surprise though since, as the FT reported in 2018 citing analysts, Goldman has been targeting riskier borrowers, supplying about one-fifth of its loans to people with credit scores below 660 on the commonly used FICO scale; there is a familiar name for this group of borrowers: "subprime."

And now, four years later, as CNBC reports, more than a quarter of Goldman's card loans have gone to customers with FICO scores below 660, according to filings. That could expose the bank to higher losses if the economy experiences a downturn, as is expected by many forecasters.

"People are losing their jobs and you had inflation at 40-year highs; that will impact the subprime cohort more because they are living paycheck to paycheck," Michael Taiano, a senior director at Fitch Ratings, said in an interview.

"With Goldman the question will be, were they growing too fast into a late-cycle period?"

Savings rates are collapsing, forcing Americans to use their credit cards to maintain living standards as prices for everything soar...

"Goldman's credit card net change-off ratio has risen sharply in the past 3 quarters," Juneja wrote.
The Fed investigation is occurring at the same time as a Consumer Financial Protection Bureau probe of Goldman's credit-card business. Goldman disclosed last summer that the CFPB is investigating its credit-card account management practices, including how the bank resolves bill errors, refunds cardholders and advertises its cards.
The two agencies are sharing information, people familiar with the matter said.
In 2018, quoted by the FT, CEO at the time, Lloyd Blankfein said Goldman was "being very careful" in its development of Marcus, "growing very slowly and deliberately with a lot of controls", so that people do not take out loans they cannot afford to pay back.
It appears that all went out the window as 'stimmies' sparked a panicked rush for customers... and remember we are still 'not in a recession' and Americans are enjoying what Biden proclaimed "the strongest economy ever."
Or maybe this surge in charge-offs at Goldman is the canary in the 'consumers are strong' coalmine.
Goldman shares are tumbling on the report, now below the spike lows from earnings this week...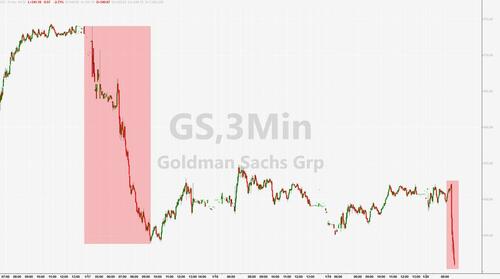 As we noted earlier in the week, Goldman is now scaling back the consumer operation as part of a broader reshuffling of its businesses.
The bank is discontinuing personal loans and has scrapped plans to offer a checking account broadly.
"We tried to do too much too quickly," Chief Executive David Solomon said of the consumer business on a call with analysts earlier this week.
Tyler Durden
Fri, 01/20/2023 - 12:04