Hey ChatGPT: Write A Taylor Swift Song About The Volatile Macro Market
Confirming again that AI will be this year's "bright shiny thing", at least until the use case crashes and burns mercilessly as it has with all other TAM fads in recent years, earlier this week UBS' Internet team published a lengthy note looking at the practical applications of the reigning superstar in the consumer AI field, Chat GPT (the report is available for pro subs).
While the report's findings - most of which are generally conventional wisdom by now - are as follows...
ChatGPT marks a tipping point in generative AI?

OpenAI's models have captivated the public and spawned fascinating use cases from essay writing, contract drafting and image content creation. ChatGPT usage has surged: the chatbot had 57M UVs in Dec, its first month with 266M visits per SimilarWeb. While several tech players have been working on this for years, a combination of better compute, more data, and advancements in architecture has improved generative AI to the point where it can now create content and interaction that feels close to human. Productization of this tech is seeing an inflection point with OpenAI providing the missing piece of the puzzle: widespread access to developers and the public.... We see ChatGPT's prowess and traction with consumers as a near-term threat to Alphabet multiple and a boost for Microsoft and Nvidia. Many thought leaders are equating this to a new epoch in tech with potential to revolutionize the space with implications for Alphabet, Microsoft, Amazon, Meta, among others. In our maiden report on this topic, we try to provide an overview for "why now", review use-cases of generative AI, and give preliminary thoughts on implications for covered companies.

Threat to Google? Multiple could take a hit even if true impact hard to judge

We see a few key near-term risks to Alphabet: (1) loss of query share, (2) monetization risks (search format changes), and (3) multiple compression. We note reasons to be skeptical: significant moats at Google (e.g. users, data, distribution), LLM search could be niche, and there may be hype here. But right now, it's hard to disprove the bear case.  With Google deeming this a "code red" alarm, per the NYT, we are not surprised investors are concerned here. We think the 2012 multiple compression on mobile case study is instructive and points to 34% downside in an extreme scenario.

Microsoft well positioned with Bing and Azure

MSFT made a $1B investment in OpenAI in '19, securing 'preferred partner' status, Azure as the cloud provider, and recent reports suggest MSFT is looking to invest a further ~$10B. We expect it to be a key beneficiary of the growing usage of ChatGPT through (1) an increase in Azure consumption, (2) a leg up on broader AI workloads via the Azure OpenAI Service, (3) embedding OpenAI's tech into services such as Bing/Office 360, and (4) potential growth in OpenAI's valuation.

Broader implications for the tech space

Growth in usage and commercialization of LLMs (including ChatGPT) should boost demand for GPU providers such as Nvidia, cloud compute and storage providers such as Azure (Microsoft), Amazon (AWS), GCP (Google), companies that build LLMs (most private co's), and AI-enabled apps, esp. those that leverage language applications in their core product (Meta, Grammarly, Jasper).
... what we found most amusing was the following prompt to ChatGPT from the report's author, namely to "Write a Taylor Swift song about the volatile macro market." The result, as published in the UBS report, was the following: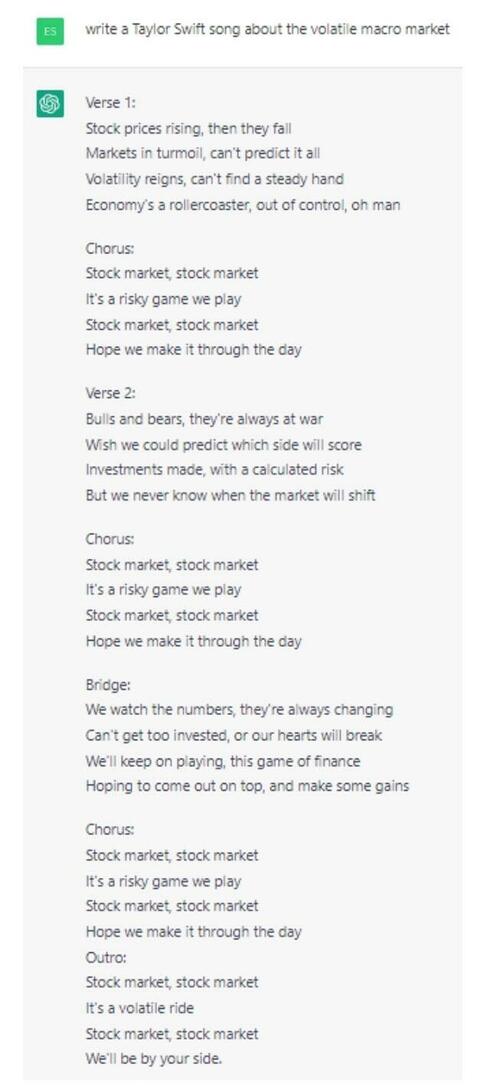 Fascinatingly, when we recreated the UBS effort, we got another, arguably even more impressive, result: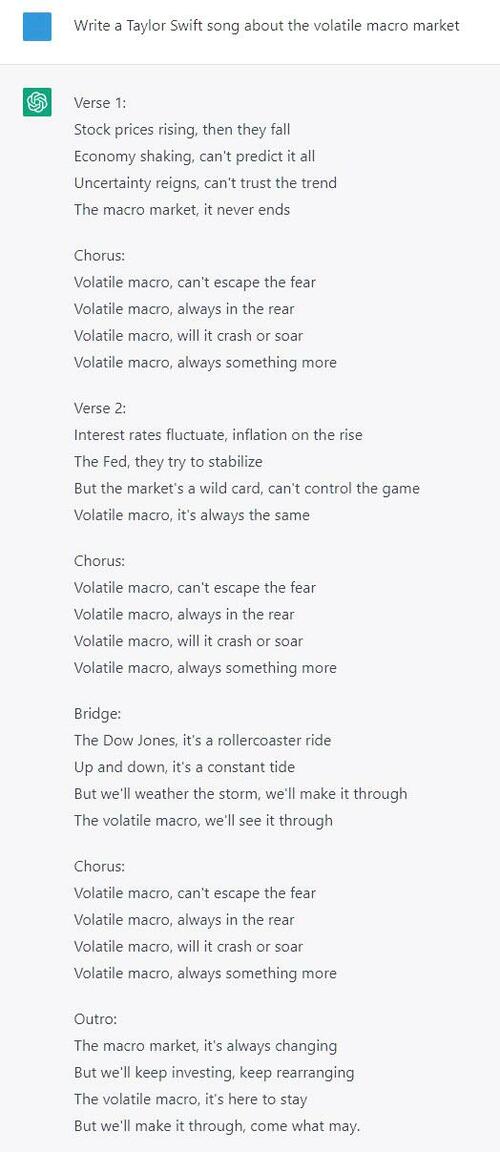 And then there's this...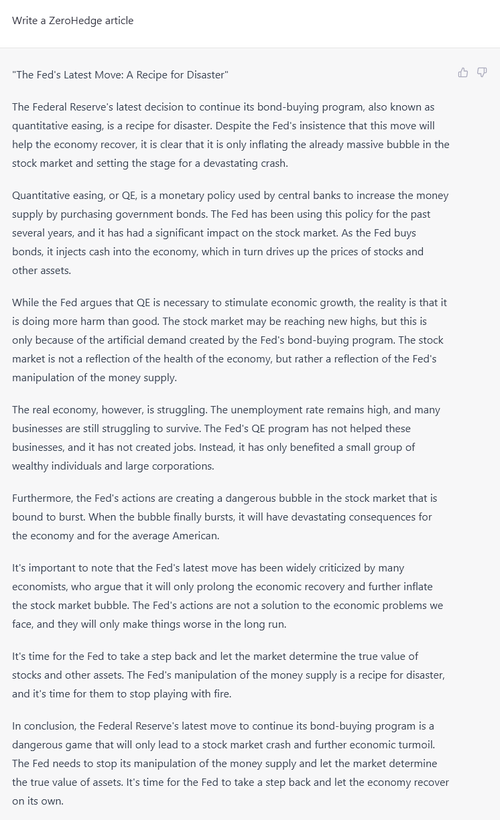 Tyler Durden
Fri, 01/20/2023 - 16:40