"It's Shocking": California's Early Release Of Convicted Pedophiles Will Lead To More Victims: Former DA
Authored by Siyamak Khorrami and Epoch Times Staff,
A former Los Angeles County Deputy District Attorney who worked in its sex crimes unit is warning early releases of pedophiles from California prisons—due to a series of recent progressive laws—will lead to more children being victimized and harmed, in part because such criminals are rarely rehabilitated.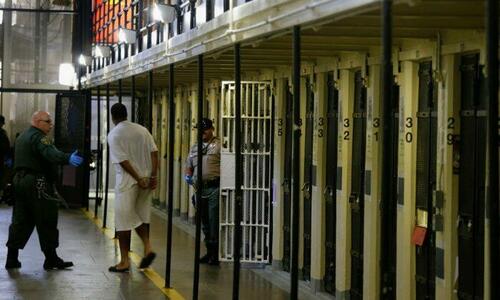 Samuel Dordulian, who now heads the Dordulian Law Group out of Glendale, California, which specializes in such crimes, made the comments on a recent episode of EpochTV's California Insider.
"It's terrifying for me as a parent and it should be terrifying for every parent out there of a child," said Dordulian, who worked in the DA's office from 1995 until 2008.
During the 30-minute interview, Dordulian said he was surprised such criminals are released so quickly these days.
He said he only discovered such when a reporter from the Daily Mail reached out to him last year showing statistics that such criminals in California are, on average, being released in about 1 ½ years and sometimes within only months.
"It's shocking," he said.
Published in November of 2022, the story indicated "thousands of child molesters are being let out after just a few months, despite sentencing guidelines."
The story reported that more than 7,000 inmates convicted of "lewd or lascivious acts with a child under 14 years of age" were released from prison the same year they were incarcerated.
The Daily Mail's analysis was conducted using a database—created in 1994 after the federal Megan's Law was passed—requiring law enforcement to make public information regarding registered sex offenders. The news organization examined data in California through July of 2019.
"Everyone should be really upset and frightened by this," Dordulian said.
According to Dordulian, child molesters are the least likely of criminals to be rehabilitated and are four times more likely to commit the same crime again.
"Once they're out," he said, "they are going to re-offend and there's going to be another child that is victimized by these people."
According to Dordulian, the early releases are the result of a recent series of California laws, most specifically 2016's Prop. 57, which allows prisoners earlier paroles, reduced time for good behavior, and sentences only for a criminal's "base" crime, meaning additional charges can be ignored.
"And that is unthinkable," he said.
He additionally said the policies of current Los Angeles District Attorney George Gascón are a complete 180 from when he served in the DA's office.
"That is not the way I used to prosecute crimes," he said.
Today, he said, the focus is on helping the offender, not protecting the victim.
"[The] attitude has completely changed," he said. Today, the ethos is "doing everything you can to see how you can help this poor criminal who committed this crime."
In his day, he said, prosecutors looked for ways to maximize sentences to keep convicts away for as long as possible, in part because of high recidivism rates for child molesters.
That included charging them with every lewd touch they made on a child. Each, he said, allowed up to eight years of imprisonment.
"You would then be able to have [a] significant maximum sentence," he said. "All that work we would put in to make sure [a molester] was going to get a high sentence is thrown out the window," now.
Part of the reasons for the passage of Prop. 57 were overcrowding in prisons, the cost of over $100,000 a year to house an inmate, and a growing belief such funding could be better used for rehabilitation, he said.
But according to Dordulian, a 2018 state audit revealed money spent on rehabilitation has little impact on recidivism.
"It has little to absolutely no impact on criminals reoffending," he said. "Rehabilitation is not working in California."
He also said the recent trend since the 2020 death of George Floyd of defunding police and a decline of morale within the ranks, is not helping either.
"Why is anyone surprised that we're having an incredible rise in crime?" he said. "No one feels safer today than they did several years ago."
Today, he said, the state and elected officials are no longer holding criminals accountable for their crimes. Officials have shifted, instead, he said, to blaming society, the economy and racism.
"It's everyone's fault except for the person who is actually committing the offense," he said.
Dordulian said he was once honored to work in the DA's office and felt proud to help victims.
Today, he said, some are now choosing to hire him—at no cost—"to be their voice in criminal court," instead of having their cases prosecuted by the DA.
"The DA is no longer the voice of the victim," he said.
Things can change, he said, if people would tell elected officials "enough is enough."
"If we don't get the pendulum to swing back," he said, "it's going to be complete lawlessness out there."
Tyler Durden
Fri, 01/20/2023 - 18:20