Major Texas University Blocks Students From Using TikTok On Network
Authored by Katabella Roberts via The Epoch Times (emphasis ours),
The University of Texas at Austin has banned students from using Chinese-owned TikTok on its Wi-Fi network, in line with Gov. Greg Abbott's December directive that all state agencies eliminate the cybersecurity risks posed by the video-sharing app.
In a message to students on Jan. 17, Jeff Neyland, adviser to the university's president for technology strategy, said the school is taking steps to comply with Abbott's order.
"The federal government recognizes the video-sharing mobile application as a national security threat," the email read. "Several federal agencies and states have already prohibited its use on their government networks and government-issued devices."
"Recently, UT Austin began the process of removing TikTok from all government-issued devices, including university-issued cell phones, laptops, tablets, and desktop computers. Today, the university blocked TikTok access on our networks. You are no longer able to access TikTok on any device if you are connected to the university via its wired or WIFI networks."
Neyland added that the school is taking steps such as banning students from using the app—which is owned by the Chinese company ByteDance, based in Beijing—in an effort to "eliminate risks to information contained in the university's network and to our critical infrastructure."
Officials Say TikTok Poses Growing Threat
The message then pointed to Abbott's Dec. 7 directive, which states that there is a growing threat of the Chinese Communist Party (CCP) trying to infiltrate the United States across multiple fronts.
"While the federal government holds the ultimate responsibility for foreign policy issues, the State also has the responsibility and opportunity to protect itself," the order states.
Abbott's directive also ordered all state agencies to ban employees from downloading or using the app on government-issued devices, including cellphones, laptops, desktops, and other devices capable of internet connectivity, although exceptions are made for law enforcement agencies.
Additionally, the Republican directed the Texas Department of Public Safety and the Texas Department of Information Resources to develop a plan that other state agencies can deploy to address "vulnerabilities presented by the use of TikTok on personal devices."
TikTok has more than 85 million users in the United States.
According to Abbott and a string of other officials, the app harvests vast amounts of data from its users' devices, including "when, where, and how they conduct internet activity" and could provide a trove of potentially sensitive information to the CCP.
In December, FBI Director Chris Wray said that the agency has security concerns about TikTok, including that it could be used by the CCP to collect data on users which could potentially be used to conduct espionage operations.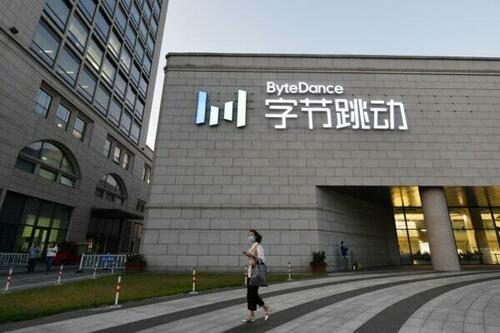 TikTok Disappointed by Texas University Decision
TikTok claims it stores U.S. user data on servers outside of China.
In a statement to The Hill, a company spokesperson said TikTok was "disappointed that so many states are jumping on the political bandwagon to enact policies that will do nothing to advance cybersecurity in their states and are based on unfounded falsehoods about TikTok."
Tyler Durden
Thu, 01/19/2023 - 19:05