Timing Of Elon Musk's $3.2 Billion In Stock Sales Before Tesla's Q4 Delivery Miss Called Into Question
Shares sales made by Tesla CEO Elon Musk prior to the company missing its delivery forecasts have come into focus thanks to a new Wall Street Journal article that pointed out some...anomalies...about the timing of Musk's recent sales. 
Musk sold $3.6 billion in stock late last year after questions loomed about whether or not the company would make its Q4 delivery numbers. And while newsmedia speculated that the number could come in below consensus, the company did nothing to update investors about where they stood relative to their guidance.
Which, as the WSJ points out, begs the question: "Did Mr. Musk know that business had slowed when he sold his shares?"
James Cox, a securities-law professor at Duke University commented to the Journal: "This should be of great interest to the SEC. The issue here is, what did he know and what was the market anticipating when he sold? That's a critical moment."
SEC rules obviously prohibit insiders from trading when they are in possession of material non-public information. There are exception to this rule, like when insiders use a 10b5-1 plan to sell or buy at steady intervals. 
Meanwhile Tesla had cut prices in china on December 1, prior to Musk's sales, indicating the company may have known there was a demand problem. Similarly, on December 5, the company announced plans to lower production in China.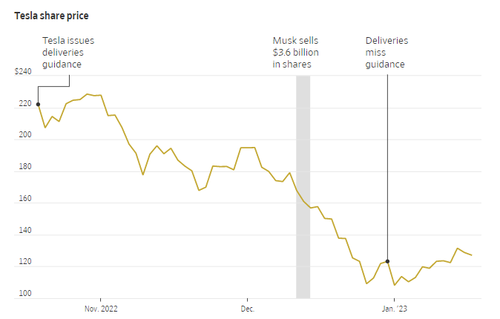 Musk's sales came December 12 to December 14 at an average price of $163 per share, the report notes. Those shares had lost about $1.2 billion in value when the company's stock closed at $108 on January 3 - after the company missed its delivery guidance. 
About 8-10 days after Musk's sales, Tesla also lowered prices in the U.S. and started to offer 10,000 miles of free supercharging for vehicles delivered that month - indicating the company may have been on a concerted push to pull forward more deliveries for its Q4 number. 
The company had previously guided for a 45% increase in annual deliveries, which would have equated to about 449,000 deliveries for the quarter. In early 2023, it reported deliveries of just 405,278 vehicles, missing estimates by almost 10%. 
Musk has now sold more than $39 billion of Tesla since November 2021, the report says. His share sales most recently have ostensibly come as Musk seeks to create liquidity after his $44 billion purchase of Twitter. 
Whether the SEC gets involved remains to be seen. Donald Langevoort, a securities-law professor at Georgetown University concluded: "Is it suspicious? Yes. Is it entirely possible there are other explanations? Of course. But that's what the enforcement process is all about."
Tyler Durden
Fri, 01/20/2023 - 11:05