Top ISIS Security Chief Masquerading As An Asylum-Seeker Arrested In The Netherlands
Authored by Thomas Brooke via Remix News,
The Syrian national, who has not been identified, faces allegations he led the terror group's security services before fleeing to Europe to claim refuge...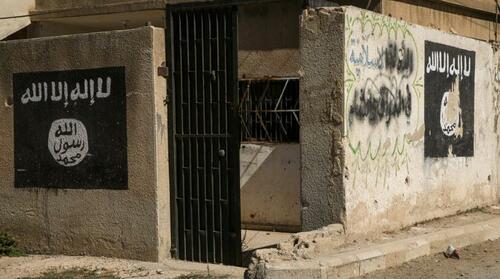 A Syrian asylum seeker was arrested in the Netherlands on Tuesday on suspicion of acting as one of the Islamic State's top security chiefs during the terror cell's infamous rise to power in the Middle East.
The 37-year-old man was arrested in the village of Arkel, approximately 40 kilometers east of Rotterdam, where he had resided since entering the Netherlands and claiming asylum back in 2019.
The suspect is believed to have been in a senior position in the security services of both the Islamic State and, prior to this, Jabhat al-Nusra, another proscribed Salafist jihadist terror group, according to the Dutch Public Prosecution Service (OM).
"It is suspected that from his position at IS, he also contributed to war crimes that the organization committed in Syria," the Dutch public prosecutor said in a statement.

"Before that, he supposedly held the same position for two years at another terrorist organization: Jabhat al-Nusra. He is said to have held both positions in and around the Yarmouk refugee camp in the south of the Syrian capital Damascus," OM added.
The arrest followed a tip-off about the suspect's former alleged involvement with the terror groups to the special Dutch war crimes police team. Following an investigation, authorities reportedly uncovered evidence that suggested he had led the Islamic State's security service from 2015 until 2018, when he left the organization and fled to Europe seeking refuge.
The suspect, who has not been identified, will appear before a judge in The Hague on Friday.
The Netherlands has frequently been a target location for numerous former Islamist extremists fleeing Syria following the demise of the Islamic State.
Dutch newspaper De Telegraaf highlighted two other examples of jihadi leaders slipping into the country among the many thousands of Syrian refugees, highlighting Europe's incredibly lax screening processes overwhelmed by the numbers who have and are still arriving from the Middle East.
One example the newspaper cites is that of Aziz al-H., known as "Balie jihadi" who entered the Netherlands in September 2017 under false papers and lived the high life in Amsterdam for over a year. Fellow Syrians recognized him as a terrorist ringleader once he started turning up at a debate center in Amsterdam, and Aziz was subsequently arrested by authorities. He was sentenced to 16 years in prison.
Another example involved a Syrian national arrested in Kapelle, Zeeland, in 2019. He had been leading an inconspicuous life as a bus driver before evidence was presented to authorities showing his personal involvement in the execution of a Syrian colonel on the banks of the Euphrates River. He was sentenced to 20 years' imprisonment.
Tyler Durden
Fri, 01/20/2023 - 06:55