US Oil Rig Count Sees Largest Single Week Drop In 16 Months
By Julianne Geiger for Oilprice.com
The total number of total active drilling rigs in the United States fell by 4 this week, according to new data from Baker Hughes published on Friday.
The total rig count fell to 771 this week - 167 rigs higher than the rig count this time in 2022, and 304 rigs lower than the rig count at the beginning of 2019, prior to the pandemic.
Oil rigs in the United States fell by 10 this week, to 613. It is the largest single week drop in the number of oil rigs since September 2021. Gas rigs rose by 6, to 156. Miscellaneous rigs stayed the same at 2.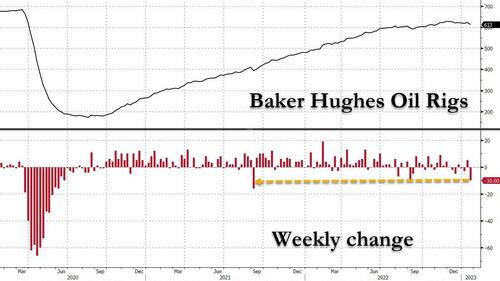 The rig count in the Permian Basin fell by 2, while rigs in the Eagle Ford fell by 1.
Primary Vision's Frac Spread Count, an estimate of the number of crews completing unfinished wells - a more frugal use of finances than drilling new wells - broke it's six week losing stream during the week ending January 13. The frac spread count is now 254, up 4 from the previous week. This is 11 fewer crews than a month ago and the same as a year ago.
Crude oil production in the United States stayed the same at 12.2 million bpd level in the week ending January 13, according to the latest weekly EIA estimates. U.S. production levels are up 500,000 bpd versus a year ago.
[ZH: but US crude production has been relatively flat for six months]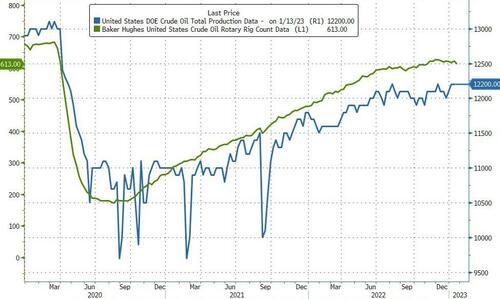 [ZH: With a 4-week lag, the plunge in rig counts suggest US crude production is set to decline]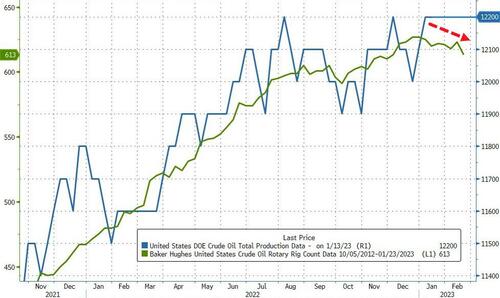 At 11:00 a.m. ET, the WTI benchmark was trading up $0.12 on the day (+0.15%) at $80.45 per barrel - a less than $1 per barrel gain since this time last week.
The Brent benchmark was trading up $0.14 (+0.16%) at $86.30 per barrel on the day, and up about $1.30 per barrel compared to last Friday. 
WTI was trading at $81.45 minutes after the data release, up nearly 1.4% on the day.
[ZH: Bear in mind that the drop in production will only pressure prices higher, which are already indicating gasoline prices at the pump are due to rise again soon...]
[ZH: What will Joe do now?]
[ZH: And don't expect the newly responsible group to suddenly switch up their CapEx plans anytime soon to reignite rig count momentum...]
Oil E&P's continue to show remarkable capital discipline as cashflows rise. pic.twitter.com/DSR4YcWnvw

— Sanford Bernstein Research (@BernsteinBuzz) January 18, 2023
Tyler Durden
Fri, 01/20/2023 - 14:26