Cardano Founder Considers Bailing Out CoinDesk, Says $200 Million Is "Overpriced"
CoinDesk Inc., a cryptocurrency news website whose parent company is financially troubled Digital Currency Group Inc., reached out to investment bankers at Lazard Ltd. for a potential sale. 
"Over the last few months, we have received numerous inbound indications of interest in CoinDesk," CoinDesk CEO Kevin Worth told WSJ. 
One interested party in CoinDesk is Cardano blockchain founder Charles Hoskinson.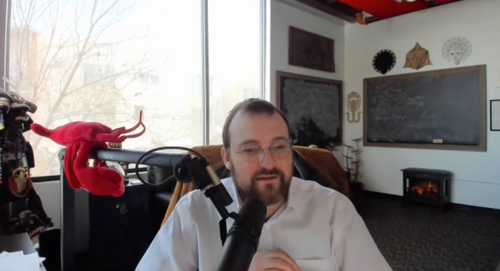 On Thursday, Hoskinson tweeted a video explaining the price of the crypto-focused media outlet is around $200 million, adding it might be overpriced if the valuation is based on "a 2021 number when everything was on the cocaine and hookers era, and everyone was making great money." He then asked if the valuation had been readjusted for 2022 numbers during the crypto bear market. 
"At $200 million, I believe it's a bit overpriced," he said. "I could afford it if I really wanted to." 
Hoskinson said his goal is to revive "journalistic integrity" in the crypto news race. He noted Cardano had a bunch of bad press from various media outlets with agendas -- citing how FTX funded The Block. 
He said it might be cheaper to build a "more decentralized organization" with $5 to $10 million. 
He pointed out that CoinDesk doesn't have a good video unit yet and lacks a metaverse component. 
Here's Hoskinson talking about CoinDesk:
Buying Coindesk https://t.co/YNJYjKhIlx

— Charles Hoskinson (@IOHK_Charles) January 19, 2023
And the news of a potential sale comes as Genesis Global Capital filed for Chapter 11 on Thursday night. Genesis and CoinDesk are both parent companies of Digital Currency Group, which Barry Silbert operates. Perhaps Silbert's crypto empire is in a liquidity crunch. 
Tyler Durden
Fri, 01/20/2023 - 20:00