Go Woke, Get Broke: Vox Fires 7% Of Staff; Vice's Valuation Plunges
It's a terrible time for America's liberal media - with companies laying off, implementing hiring freezes, and other cost-cutting measures. Some media companies have even collapsed in valuation. Many are blaming increasing macroeconomic uncertainty that has crushed advertising revenues. 
A wave of recent layoffs has hit media companies, including CNN, Buzzfeed, Paramount Global (the parent to CBS, MTV, VH1), The Walt Disney Company, Comcast, Roku, Morning Brew, Gannett (parent company to USA Today), and many more in the past year. 
Add Vox Media, which owns brands like The Verge, SB Nation, and New York magazine, to the growing list of media layoffs. 
Axios obtained an internal memo from CEO Jim Bankoff to staff about reducing headcount by 7%. About 1,900 people work for the company, which equates to about 133 layoffs. 
Bankoff noted that the headcount reduction would impact teams across revenue, editorial, operations, and core services. 
"While we are not expecting further layoffs at this time, we will continue to assess our outlook, keep a tight control on expenses and consider implementing other cost savings measures as needed," he said, adding layoffs were a last resort.
The move was to address the coming downturn in the economy.  
Besides layoffs and other cost measures, media company valuations have plunged. 
For instance, Vice Media is putting itself up for sale (again) at around a billion-dollar valuation, according to CNBC, citing people familiar with the talks.
Today's number is far from the $5.7 billion valuation in 2017. 
CNBC previously reported Vice hired financial advisors to seek a sale.
One of Vice's lenders, Fortress Investment Group, is pushing for a sale. 
Meanwhile, Buzzfeed's SPAC is only getting worse -- with a current market cap of $129 million -- down from more than a billion dollars a year ago.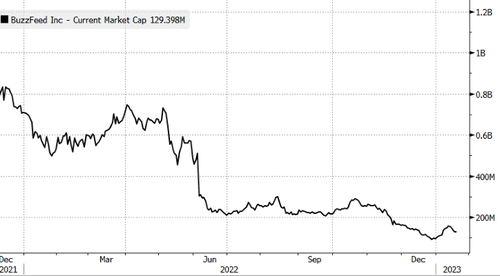 America's largest digital media companies are in dire straits. Maybe some of them are in these precarious situations because they embraced liberal ideology and suffered massive viewership losses. We all know CNN is learning that the hard way. 
Tyler Durden
Sat, 01/21/2023 - 15:00