India Overtakes China As World's Most Populous Nation
At this point, what we have been speculating about for months looks to be official: India has already passed China as the world's most populous nation. 
Citing estimates from the World Population Review, an independent organization focused on census and demographics, India's population was marked at 1.417 billion as of end 2022. This marks 5 million more than the 1.412 billion people reported by China. according to reporting by Bloomberg and the SCMP. 
Just hours ago, we noted that the overtaking of China seemed inevitable:
With China's population decline official, it is safe to say India is now the most populous country in the world pic.twitter.com/xNxVvsaAjG

— zerohedge (@zerohedge) January 17, 2023
China's figure marks the first population decline for the country since the 1960s. 
Half the population is under the age of 30 in India, the report notes, meaning that Prime Minister Narendra Modi will need to keep a sharp focus on job creation in order to harness the country's labor/production capacity. Modi is due to seek re-election by May 2024, the report notes. 
Nearly 800 million people "still rely on free food rations from the government", however. And estimates for where the country's population is at now range from 1.423 billion to 1.428 billion - a sign that the growth in India is slated to continue. 
Meanwhile, Bloomberg Economist Eric Zhu has called China's reduction in population a "growth crushing headwind". The population in China fell by 850,000 in 2022. 
Recall, back in October 2022, we noted that India was in the running to overtake China. At the time, using the latest data available from the United Nations, Visual Capitalist's Nick Routley looked at which countries had the largest share of the planet's eight billion people.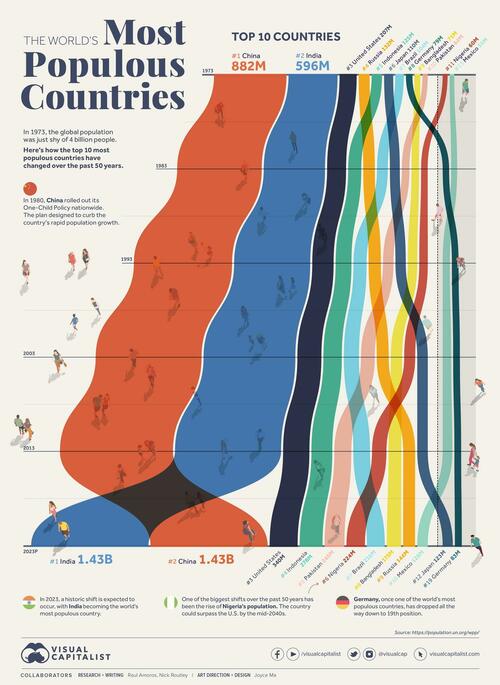 We wrote then: "Once India becomes the world's largest country, it will likely remain so for many decades in the future, peaking in the 2060s (unless there are substantial changes in projected growth rates). India's peak population will stand at around 1.7 billion people."
"The world's population is expected to peak later, around the 2080s. Humanity's peak population is expected to be about 10.5 billon," we concluded. 
Tyler Durden
Sat, 01/21/2023 - 16:00