"Not The Weather": What's Behind California's Skyrocketing Natural Gas Bills
Authored by Jill McLaughlin via The Epoch Times (emphasis ours),
Californians are expecting skyrocketing natural gas bills this month, but this can't all be blamed on the weather, according to industry insiders.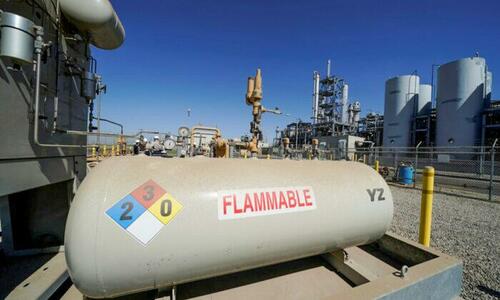 Southern California Gas Company (SoCalGas), which serves about 5.9 million households and businesses, warned customers to expect "shockingly high" January bills that could be 128 percent higher compared to December.
Those who typically paid around $65 a month last winter are likely to pay about $160 this year, SoCalGas said in a statement Dec. 29. Those with bills around $130 a month could see charges jump to $315.
Last December, wholesale natural gas prices already cost five times more than that of 2021. The utility also paid unprecedented prices for the supply in January, the company reported.
Natural gas prices rose in 2022 for five reasons, according to a biennial report (pdf) published by California Gas and Electric Utilities, a group of utility providers including SoCalGas, San Diego Gas & Electric, and SoCal Edison.
First, North American inventories fell below the five-year average last year. Second, the national supply was also strained by Europe's steady demand for American natural gas during the Ukraine conflict.
Third, the Biden administration restricted licensing and drilling in the country for fossil fuels, and investment for such production has lagged behind the rapidly growing demand for natural gas over the past year, according to the report.
Lastly, the growing electric power sectors nationwide also consume natural gas, the company reported.
"From an economic standpoint [reducing reliance on fossil fuels] may be costly and is certainly not expected to be rapid or easy," the utility reported. "Nonetheless, the push to find ways forward and to provide energy solutions to customers in a clean and affordable way is an imperative."
Climate Goals Restrict Production, Grow Demand
Besides the recent storms that have crimped national supplies, California's poor storage planning and aggressive climate action goals played a part in driving the prices skyward, Mike Umbro—an oil and gas developer in Kern County, about 150 miles north of Los Angeles—told The Epoch Times.
Utility companies use natural gas to create 43 percent of the electricity used by over 11 million customers in California, and the state only produces about 10 percent of what it needs, according to California Energy Commission.
"In the past 20 years, our in-state production was cut in half … We rely on other states around us to supply the difference of what we need," Umbro said.
The Golden State and its neighbors are "feverishly working to decarbonize the electricity grid," he said.
"California is adding renewables while other states are shutting down coal power plants—both of these trends are increasing the usage of natural gas for power generation," he said.
As a result, the state's utility providers are paying "unprecedented" high prices this winter, he said.
Low Inventory Amid Russian-Ukraine War
Natural gas inventories are typically filled during the spring and summertime. Last year, however, fuel prices were soaring during that time, and utilities held off buying it.
To worsen matters, national supplies began flowing to Europe during the Ukraine conflict, leading to California's storage levels dropping to the lowest in the country—41 percent—at the end of 2022, Umbro said.
"We thought we were bailing out Europe from these high prices, and we forgot about California over here," he said. "It appears utilities didn't want to buy natural gas, so they went into the winter very vulnerable to supply shocks."
Sitting at the End of Pipelines
Then, a series of storms pummeled the West Coast, and residents began turning on the heat, not only in California but also in the surrounding states of Colorado, Oregon, and Washington, which contributed to price spikes.
Additionally, the Golden State imports fuel through pipelines, two of which were down for maintenance in West Texas and the Rocky Mountains.
Supply shortage in California—which sits at the end of the pipeline, according to Umbro—could get much worse as other states also begin to decarbonize, he said.
"What I see looking out in the future is, by the time these states decarbonize, California will be out here without any fuel," he said. "It's hard to point to something in the future that's going to save us from this."
High Bills to Continue If Conditions Persist
The President of the California Public Utilities Commission Alice Reynolds told commissioners Jan. 12 "these high bills could continue if these market conditions persist."
Read more here...
Tyler Durden
Sat, 01/21/2023 - 12:30