Pentagon Already Sees Ukraine War Going Well Past 2023
We've not so much as reached one full month into 2023, and the United States' top ranking general is already predicting the war in Ukraine will surely not end this year.
US Joint Chiefs of Staff chairman Mark Milley issued a broad view assessment on the state of the battlefield while attending a US-hosted meeting in Germany at Ramstein airbase among allied defense ministers, which had as its focus sending more arms to Ukraine. Gen. Milley said: "From a military standpoint I still maintain that for this year it would be very, very difficult to militarily eject the Russian forces from all, every inch of... Russian-occupied Ukraine."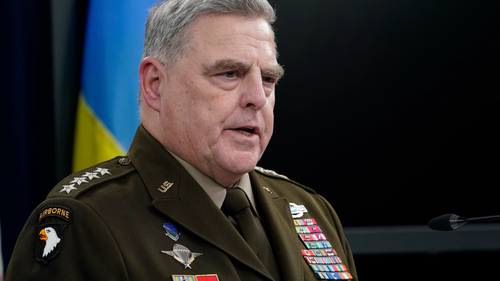 Milley in his comments said that currently there's a mostly "static" front line, which the exception of the (Russian) offensive in the area of Soledar and Bakhmut.
Despite officials at the meeting pledging more weapons to Ukraine, no significant decisions were made on the controversial question of sending Western-made heavy tanks.
Instead, the Biden administration says it's sticking by the decision to not send M1 Abrams tanks to Ukrainian forces. At the same time this may translate into Ukrainian forces holding back on any major attempt to push Russian forces back from current frontlines, particularly the now raging Bakhmut fighting.
"Senior US officials are urging Ukraine to hold off on launching a major offensive against Russian forces until the latest supply of weaponry is in place and training has been provided, a top Biden administration official says," according to one international report.
"For this year it would be very very difficult to militarily eject Russian forces from every inch of Russian-occupied Ukraine"

General Mark Milley says 'Putin should and could end this war today'https://t.co/X3flQUBL0r

📺 Sky 501 and YouTube pic.twitter.com/TirCuJTZ3M

— Sky News (@SkyNews) January 20, 2023
This was followed by: "Speaking to the Reuters news agency on the condition of anonymity, the official said the US was sticking to its decision not to provide Abrams tanks to Ukraine."
Again, 2023 has barely started, and here we are... the Pentagon expects this war to be stalemated and keep grinding on well into 2024.
Sadly, the casualties on either side will continue to mount. The Western allies will inevitably for the time being continue to embark on a massive expansion of their respective defense budgets...
⚡️France's defense budget will be increased by a third, to 400 billion euro, in the period from 2024 to 2030, French President Emmanuel Macron said pic.twitter.com/Axnacww12A

— War Monitor (@WarMonitors) January 20, 2023
Tyler Durden
Fri, 01/20/2023 - 21:20