Plunge In Port Of Long Beach Imports Points To Sharply Lower Inflation
By Vincent Cignarella, Bloomberg markets live reporter and analyst
Drop in imports as measured by container shipments coming through the port of Long Beach suggests supply chain disruptions may be easing as inflation erodes US consumer disposable income.
The good news is that inflation is falling as consumers either spend less or alter spending habits to less expensive options.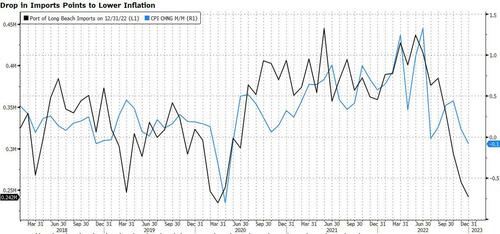 The trend suggests, inflation is not embedded in the consumer psyche, the phenomenon where consumers expect prices to be higher the next day so they buy today.
To someone who waited on gas lines, this is not the inflation of the 1970s.
The consumer appears to have the power and that is a good omen for risk.
The more consumers push back, the slower the pace of rate hikes and the sooner the pivot. Great news for bond bulls and dollar bears.
Tyler Durden
Sat, 01/21/2023 - 09:20