SHOT Show Exhibitors Promote Gun Safety, Suicide Prevention
Authored by Michael Clements via The Epoch Times,
The National Shooting Sports Foundation (NSSF) is as committed to promoting gun safety as it is to gun rights, Bill Brassard, senior director of communications and director of the Child Safe program for the NSSF, told The Epoch Times.
"It's about much more than firearms," Brassard said.
According to Brassard, the firearms industry is working to do its part to promote gun safety and mental health.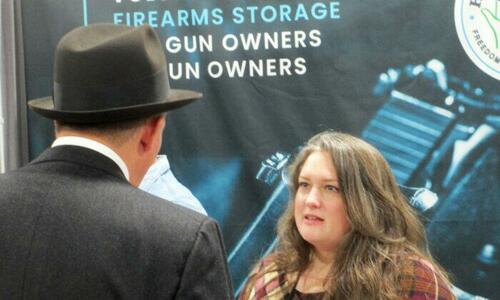 There are at least seven organizations committed to gun safety, suicide prevention, and mental health services among the more than 2,400 exhibitors at the event.
"Attitudes are definitely changing," Brassard said.

"Five years ago, they would not have had a presence here."
Brassard spoke from the Project ChildSafe booth at the NSSF's 45th Annual SHOT Show in Las Vegas, Nevada. SHOT stands for the Shooting, Hunting, and Outdoor Trade show.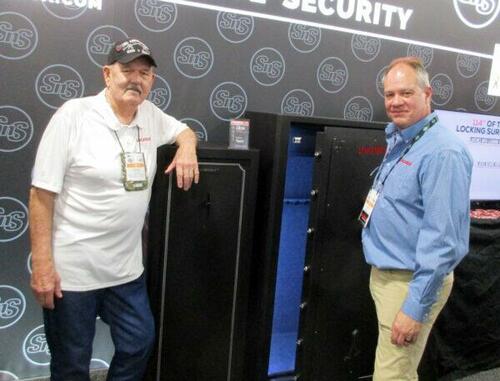 (Right) Ken Stacy, (North American representative for Lokaway safes) and (Left) Corkey Whempner (Lokaway sales representative) display one of their company's gun safes during the National Shooting Sports Foundation's 45th annual SHOT Show in Las Vegas, Nev., on Jan. 18, 2023. (Michael Clements)
One of the exhibitors Brassard referenced is Hold My Guns (HMG), a non-profit that arranges temporary gun storage. Whether for a military deployment, a mental health crisis, or the need to prevent unauthorized firearms access, HMG connects clients with federal firearms license (FFL) holders who can legally store their guns so they are ready to be returned.
Sarah Joy Albrecht is the founder and executive director of HMG. She said that in an era of red flag laws and increased attempts to restrict gun ownership, HMG was started to help gun owners temporarily create distance from their firearms without government involvement.
"This is a non-legislative approach," Albrecht told The Epoch Times.

"This is our community helping our own."
According to Albrecht, HMG arranges a transfer of firearms to an FFL. Since it is a legal transfer, the owner must be able to pass a federal background check. The guns are logged into the FFL's records and kept in their secure storage until they are returned to the owner. She said HMG partners with FFLs, who will store the firearms for a nominal fee. The FFL partners require that the storage is legal, but other than that, no questions are asked.
Albrecht said one of HMG's main objectives is suicide prevention. Her family has been directly affected by suicide, and she started HMG to prevent such tragedies. She pointed out that more than half of all gun-related deaths are suicides. But news reports list those with gun crime statistics. This compounds the stigma of suicide, she said.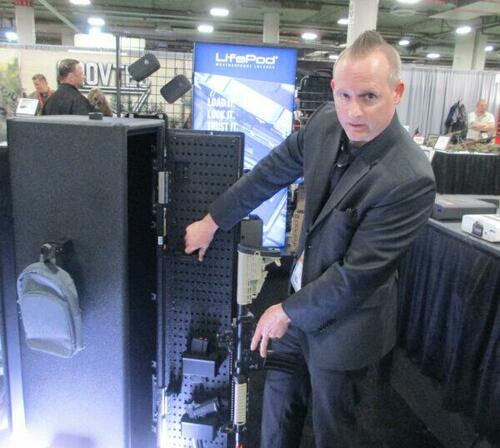 Dustin Culbreth (vice president for product development of Vaultek) demonstrates the modular features of one of his company's long gun safes during the National Shooting Sports Foundations 45th annual SHOT Show in Las Vegas, Nev., on Jan. 18, 2023. (Michael Clements)
"How much more likely is that person to seek help?" Albrecht asked. "(HMG) empowers people to make good decisions during a crisis. This is an option that serves our community."
Brassard said HMG and other safe storage options are essential in suicide prevention by creating time and distance between the person and the guns.
"It gives the person a chance to find help," Brassard said.
NSSF has also partnered with the American Foundation for Suicide Prevention, the Department of Veterans Affairs (VA), and Walk the Talk America in addition to starting programs like Project ChildSafe and NSSF Have a Brace Conversation. These organizations are working to educate the public and firearms retailers on recognizing warning signs that a person may be dealing with mental health issues and how to help them find assistance.
Brassard said the programs have been well received.
Along that line, NSSF and the American Foundation for Suicide prevention develop materials for firearms retailers, ranges, and manufacturers to make it easier for their customers to find the support they need when they need it. All the materials are free.
NSSF provides educational materials and services through its Have a Brave Conversation program. The program offers a free toolkit containing brochures, posters, counter cards, and window clings for firearms-related businesses and organizations that want to prevent suicide.
NSSF Suicide Prevention Partners
Walk the Talk America (WTA) has been operating for nearly five years. It hosts free and anonymous mental health screenings in addition to educating clinicians about gun culture, promoting responsible gun ownership, and protecting Second Amendment rights and psychological well-being. WTA works with manufacturers, retailers, wholesalers, ranges, veterans' groups, community groups, and government agencies.
In addition to suicide prevention, NSSF has made protecting children a priority. This is why NSSF began its Project ChildSafe program, Brassard said. NSSF has provided more than 40 million gun locks to gun owners through local police departments. Brassard said the locks are provided free of charge and come with information on safe gun handling and storage.
NSSF has partnered with 15,000 law enforcement agencies around the United States through the Project ChildSafe program. He said that NSSF safety programs are almost always welcomed by gun owners and those in the firearms industry. He said that as gun ownership has increased in the past several years, so has the desire of gun owners to do what is right.
"It's really a matter of responsible gun ownership," Brassard said.
Brassard said proper storage is a big part of responsible gun ownership. The quandary is how to prevent unauthorized access while maintaining availability.
High Tech Storage
Dustin Culbreth told The Epoch Times that safe manufacturers are bridging the gap between secure storage and easy access. Culbreth is vice president for product development at Orlando, Florida-based Vaultek.
"We manufacture smart safes with built-in, cutting-edge technology," Culbreth said.
In addition to biometric technology, Culbreth said Vaultek safes are programmable. Vaultek's small pistol safes can be programmed for up to 20 sets of fingerprints, meaning family members, friends, and others who may need access to the firearm will have it. They also come with a smartphone app that will alert the gun owner if someone tries to move or break into the safe.
The app keeps a log of when and how the safe is accessed so the owner can always know what is going on with his firearms. In addition, he said Vaultek safes have backup methods of opening the safes if the technology fails.
Tamper Resistant Latch
Ken Stacy is the North American representative for Lokaway, an Australian safe manufacturer. In addition to incorporating high tech into its safe designs, Stacy said Lokaway has developed a unique pry-resistant latch system.
"This latch system is much more secure," Stacy told The Epoch Times.
Stacy said Lokaway works to keep its products affordable while focusing on security. He said that anyone shopping for a gun safe should remember they are investing in their family's safety as well as secure gun storage.
"If you're going to spend any money on a security device, buy one that works and protects your kids," Stacey said.
SHOT show runs through Jan. 20 at The Venetian Expo and Caesar's Forum in Las Vegas, Nev. It features over 2,400 exhibitors on 800,000 net square feet of floor space. This is the 24th SHOT Show to be held in Las Vegas.
Tyler Durden
Fri, 01/20/2023 - 22:20