California Mass Shooter Fatally Shoots Himself
Update (2130ET): As speculated earlier, late on Sunday authorities confirmed that the gunman suspected of killing 10 people late Saturday in Monterey Park, Calif., fatally shot himself Sunday after police officers tried to pull over a vehicle he was driving in the city of Torrance about 30 miles away, authorities said.
As the WSJ reports, LA County Sheriff Robert Luna identified the suspected gunman as 72-year-old Huu Can Tran. Sheriff Luna said investigators were still working to determine a possible motive for the shooting, which also sent 10 people to area hospitals with injuries.
"The suspect responsible for this tragedy is no longer a threat," the sheriff said in a news conference.
After the mass shooting in Monterey Park, an armed man entered a dance hall in nearby Alhambra, authorities said. Several people wrestled the gun from the man, who then fled in what witnesses said was a white cargo van.
Sheriff Luna said that Torrance officers pulled over a van matching a description of the vehicle Sunday morning, and the driver proceeded to fire a single gunshot as they approached, taking his own life. Police subsequently found evidence inside the vehicle tying him to both locations, as well as a firearm, Sheriff Luna said.
Sheriff Luna said police also recovered what he described as a magazine-fed, semiautomatic assault pistol at the Alhambra scene. He said it had an extended, large-capacity magazine attached to it.
"Although that closes a portion of a very long day for all of us, the investigation is still ongoing," he said. "Sheriff's homicide detectives are working around the clock, gathering additional information and working on determining the motive behind this extremely tragic event."
* * *
Update (1454ET): FOX 11 Los Angeles' Gigi Graciette reports "possible suspect" might have been located. It appears he might have "shot himself" in a van. 
UPDATE: Van with license plates that do not belong to it (cold-plated) is surrounded by South Bay SWAT. @SEB is en route. Possible suspect in #MontereyPark mass shooting appears to have shot himself and is unresponsive. @foxla

— Gigi Graciette (@GigiGraciette) January 22, 2023
*   *   * 
Update (1432ET):
Los Angeles County Sheriff Robert Luna tweeted several images of the suspect.
On Saturday January 21, 2023 at 10:22 PM the suspect male/adult/Asian pictured above was involved in a shooting. Investigators have identified him as a Homicide suspect and he should be considered armed and dangerous.
Contact LASD Homicide with any information at 323-890-5000. pic.twitter.com/2gPUBBybvv

— Robert Luna (@LACoSheriff) January 22, 2023
*   *   * 
Update (1240ET):
Los Angeles County Sheriff Robert Luna described the suspect as an Asian male between the ages of 30 and 50. 
"Our very preliminary description has been described as a male Asian," Luna said
"We don't know if this is specifically a hate crime defined by law, but who walks into a dance hall and guns down 20 people? The description we have now is of a male Asian. Does that matter? I don't know. I can tell you everything is on the table," he continued. 
Luna added that police are "utilizing every resource to apprehend this suspect and what we believe to be one of the county's most heinous cases." 
The Monterey Park shooter is described as an Asian male. There goes the "white supremacy" narrative out the window. pic.twitter.com/Bvl2PDDnKI

— Ian Miles Cheong (@stillgray) January 22, 2023
The suspect remains at large. 
*   *   * 
Ten people were killed and at least ten others injured when a gunman opened fire at a dance club following a Lunar New Year celebration in Monterey Park, California. 
"Officers from the Monterey Park Police Department responded to a local business in the 100 block of West Garvey Avenue in the city of Monterey Park regarding shots fired call," Capt. Andrew Meyer of the Los Angeles County Sheriff's Department told reporters. He said the mass shooting happened at 2222 local time. 
The address of the incident area Meyer provided shows a small strip mall that includes "Star Dance Studio."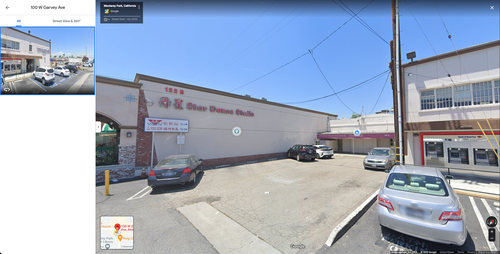 "When officers arrived on scene, they observed numerous individuals, patrons of the location pouring out of the location, screaming," he said. "The officers made entry to the location and located additional victims."
5 1/2 hours after the deadly Monterey Park shooting, we are learning 10 people have died with an additional 10 being treated at local hospitals. The suspect remains at large. Watch as Capt. Andrew Meyer from LA County Sheriff homicide gives an update More: https://t.co/riwvwCKguC pic.twitter.com/BVBsqKaSYg

— KCAL News (@CBSLA) January 22, 2023
Meyer confirmed ten people died in the shooting. Ten others, he said, "were transported to numerous local hospitals and are listed in various conditions from stable to critical."
#Breaking #MontereyPark According to scanner reports 10 people have been fatally shot, 9 others injured during a #MassShooting at a business on Garvey Ave. The suspect is still on the loose according to PD on scene. #News #Developing #Shooting #LunarNewYear pic.twitter.com/YDFQ2gTLci

— RMG News (@RMGNews) January 22, 2023
Unconfirmed footage from within the dance club surfaced on social media after the attack. 
Shooting at Star Dance Studio in Monterey Park
If you zoom in there's a girl sitting down. So sad, what an awful thing to have to go through pic.twitter.com/18NGspzKR6

— Lane (@LaneNewsom) January 22, 2023
Monterey Park pic.twitter.com/cZS7kxA8L3

— Catalan (@SativaHighh) January 22, 2023
The suspect's motive remains unclear. Meyer did not describe the suspect at the news conference. "All I can tell you is that it was a firearm that was used," he said. A manhunt is underway. 
The New Yorker's Michael Lou pointed out Monterey Park has a "majority Asian American population": 
"Monterey Park, a city of 61,000 in the San Gabriel Valley, has a majority Asian American population. Located east of Los Angeles, the suburb is 65% Asian American, 27% Latino, and 6% white, according to census data," he tweeted.
The shooting happened in the vicinity of Monterey Park's Lunar New Year celebration and attracted thousands.   
Tyler Durden
Mon, 01/23/2023 - 04:32