FAA Won't Divulge Data Behind Pilot Heart Arrhythmia Decision
The Federal Aviation Administration recently widened the acceptable range for heart rhythms for commercial pilots based on "new scientific evidence" which they won't disclose, according to Just the News, which reached out to the agency for comment.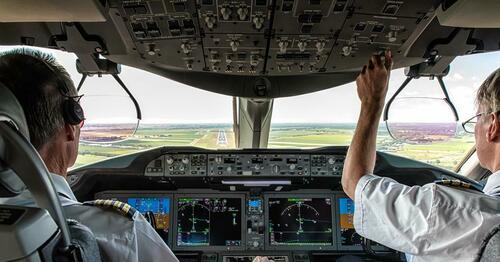 Specifically, the agency raised the maximum "PR" interval for first-degree atrioventricular block to 300 milliseconds for pilots of all ages. For intervals longer than 300 ms, the FAA will decide on pilot fitness on a case-by-case basis. Previously, the maximum PR interval was 210 milliseconds, though only for pilots under the age of 51.
If you're not up to speed watch below:
Tucker Carlson:

"The FAA made a major change in the health requirement for pilots with heart damage… The change allows people with injured hearts to fly. The FAA made this change just after the Vaccines were rolled out and made mandatory. Why?"pic.twitter.com/NLDxkH5eqN

— Citizen Free Press (@CitizenFreePres) January 19, 2023
Did we mention that airlines have been lobbying Congress to let just one pilot fly a commercial aircraft?
As Just the News reports,
FAA spokesperson Ian Gregor provided a modified version of the statement the agency released last spring after American Airlines pilot Robert Snow blamed his in-flight cardiac arrest on coerced vaccination.

Federal Air Surgeon Susan Northrup has deemed all U.S.-authorized COVID vaccines safe for pilots, the FAA said, claiming it had "seen no evidence" of vaccine-related complications that caused "aircraft accidents or pilot incapacitations." 

The agency followed "standard processes based on data and science" to determine it could "safely raise the tolerance used to screen for a certain heart condition" and notified AMEs of the change.
Except, "Gregor didn't respond to queries for the specific evidence."
According to the Associated Press, "the FAA explained that this change was made in response to new scientific evidence about the condition from its cardiology consultants, not adverse reactions to COVID-19 vaccines," yet AP can't say what prompted the change.
"When making changes to medical requirements and guidance, the FAA follows standard processes based on data and science," the agency told AP in an emailed statement. "Our cardiology consultants provided information that anything under 300ms requires no additional testing and is not a risk for sudden or subtle incapacitation."
According to Joshua Yoder, who heads US Freedom Flyers - a group which collects and analyzes adverse event reports from pilots, said that he's been contacted by wealthy businessmen to find unvaccinated pilots.
My charter company has also received requests specifically for unvaccinated pilots

— Sheumas McGonnegal (@SheumasM) January 18, 2023
"I've spoken to 30 plus individuals myself and have also heard from an aircraft broker recently who told me he's receiving similar requests," Yoder told Just the News.
According to cardiologist Thomas Levy, the FAA's rule change is "arguably a shocking one, as many pilots are in the age range when heart attacks occur without any early symptoms but with a normal ECG, the ECG being the only mandatory heart-related test," adding "A fatal heart attack from very advanced coronary artery disease could occur 10 minutes after the normal ECG was recorded."
Read more here...
Tyler Durden
Sun, 01/22/2023 - 17:00