Peru Closes Famed Machu Picchu Ruins, Tourists Trapped, As Anti-Govt Unrest Spreads
Protests in Peru are growing more violent and engulfing much of the country beyond the region of the south, where they first started and were concentrated last month following the impeachment and imprisonment of then-President Pedro Castillo.
Castillo, still detained on charges of seeking to lead a rebellion after trying to dissolve Congress, was replaced by now President Boluarte, who had served as vice president until being sworn in under emergency conditions on Dec.7.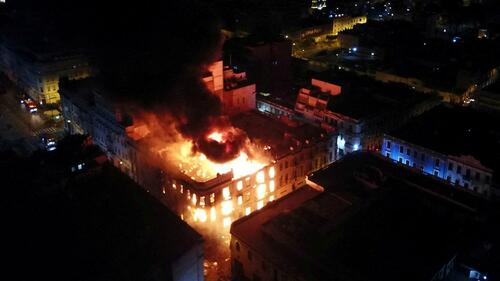 Demonstrators are seeking Boluarte's ouster and for new elections to be held immediately. Things have escalated over the weekend with the closure of tourist sites, most notably the famed ancient ruins of Machu Picchu.
The Culture Ministry said the closure of the site was necessary in order "to protect the safety of tourists and the population in general" as more and more protesters flood the area from the countryside.
Government officials said that 417 visitors were stuck at Machu Picchu amid riots, with 300 of them being foreigners. Fox News described that they had to be evacuated after the closest city which serves as a base for visitors touring the site was plunged into an emergency situation amid protester clashes with police:
The city of Cusco, the former capital of the Incan empire and an about a 70-mile train ride from the town of Machu Picchu has been the site of some of the most intense clashes since the South American nation first became engulfed in unrest after then-President Pedro Castillo, Peru's first leader with a rural Andean background was impeached and imprisoned for trying to dissolve Congress last month. 

Train service to and from the town of Machu Picchu, at the base of the hill where the ancient Inca citadel with the same name sits, had been closed since Thursday due to damage to the tracks leading back to Cusco. Hundreds of tourists reportedly lined up to sign a petition to be evacuated in a "humanitarian train." 
BREAKING VIDEO: Anti Government protests that have continued for over a month in Peru have just closed Machu Picchu leaving hundreds of tourists stranded. pic.twitter.com/Vu8xlxbPqO

— Trending 911 🌐 (@911NewsBreaks) January 22, 2023
Six weeks of unrest and massive protest clashes with police have resulted in 60 dead, and some 600 injured.
Below is the scene from days ago, which has been something seen daily for weeks:
FORTE RÉPRESSION DANS LE CENTRE DE LIMA 🔴

Dans le reste du pays, le massacre continue ! On compte 2 morts pic.twitter.com/6kGbSfoyv2

— Romain Migus (@RomainMigus) January 20, 2023
Intervention by security forces continued Saturday with a police raid on San Marcos University in Lima. It ranks as the oldest university in the Americas.
The Guardian described the chaotic scene as follows: 
Scores of police raided a Lima university on Saturday, smashing down the gates with an armored vehicle, firing teargas and detaining more than 200 people who had come to the Peruvian capital to take part in anti-government protests.

Images showed dozens of people lying face down on the ground at San Marcos University after the surprise police operation. Students said they were pushed, kicked and hit with truncheons as they were forced out of their dormitories.
Police could be seen ramming the gate to the historic university with a tank...
Workers across various sectors have initiated nationwide strikes, leading in many places public transport and other services to come to a standstill. 
Protesters have also charged that United States is seeking to prop up a 'right-wing coup regime' as opposed to Peru's first leader with a rural Andean background, Castillo.
Tyler Durden
Sun, 01/22/2023 - 16:00