Six More Classified Documents Discovered At Biden House
The Department of Justice found "six items consisting of documents with classification markings" during a Friday search of President Joe Biden's home in Wilmington, Delaware, according to a Saturday statement by the president's personal lawyers.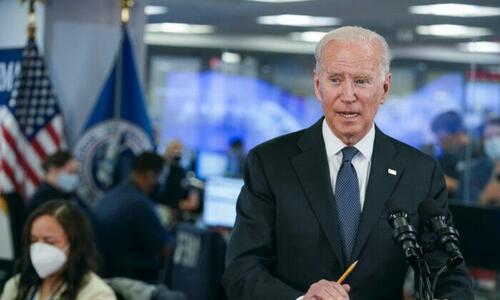 Also found were notes from Biden's time as a Senator, as well as his tenure as Vice President, according to a statement from Biden attorney Bob Bauer, which strategically leads with 'we've fully cooperated!'

The search lasted from 9:45 a.m. until 10:30 p.m. Friday, during which members of Biden's personal legal tam were present along with members from the Office of the White House counsel, according to the statement.
The DOJ also took materials "for further review."
The new documents mark the latest development in the scandal involving classified documents found at non-authorized locations used by Biden. The first batch of papers was discovered in early November, the day before midterm elections, at the Penn Biden Center.
More documents marked classified were found at his Wilmington, Delaware home in December - and then earlier this month, an additional batch of papers was found at the home.
🚨🚨🚨🚨

- In a 12+ hours search of Biden's home, the Feds found classified docs including FROM HIS TIME IN SENATE.

- Docs were found despite the WH saying that they turned over all docs a week ago.

- No video/photo of Feds/local PD standing around as done to Trump.

— Yossi Gestetner (@YossiGestetner) January 22, 2023
The Justice Department didn't immediately respond to requests for comment. Department officials earlier considered having FBI agents monitor a search by Mr. Biden's lawyers for classified documents at his homes but decided against it, both to avoid complicating later stages of the investigation and because Mr. Biden's attorneys had quickly turned over a first batch and were cooperating, the Journal reported this week. 

Some law enforcement officials had discussed the possibility of asking Mr. Biden's team for consent to have the FBI search the property themselves. Officials didn't immediately take that step in part to preserve their freedom to take a tougher line later, including by executing a search warrant, the Journal reported.

Instead, the two sides agreed that Mr. Biden's personal attorneys would inspect the homes, notify the Justice Department as soon as they identified any other potentially classified records, and arrange for law-enforcement authorities to take them.  -Wall Street Journal
So, Biden's personal attorneys searched the house themselves, said they turned everything over to the DOJ, and yet more were found? When Trump's lawyers did that he was raided by the FBI.
It's time to start focusing on where Biden did NOT drop confidential documents. https://t.co/vmiVWZjPpF

— zerohedge (@zerohedge) January 22, 2023
Tyler Durden
Sat, 01/21/2023 - 19:30