Twitter Files Prove America Headed For "Totalitarian State Territory", Expert Warns
Authored by Katie Spence via The Epoch Times,
Thanks to the revelations in the Twitter Files, there's evidence that the FBI and other agencies worked to suppress "lawful speech," and if this type of action is allowed to continue, the United States is headed for "totalitarian state territory," Matthew Peterson, the cofounder of New Founding, said in an interview with Epoch Times–NTD collaborative program "Newsmakers."
New Founding helps people and organizations position themselves to avoid threats from Big Tech and "woke capital," and Peterson has two decades of experience in digital media and political consulting.
When asked what will happen if the country's current trajectory continues for three to five years, Peterson said, "We'll be in totalitarian state territory, there's no question about it."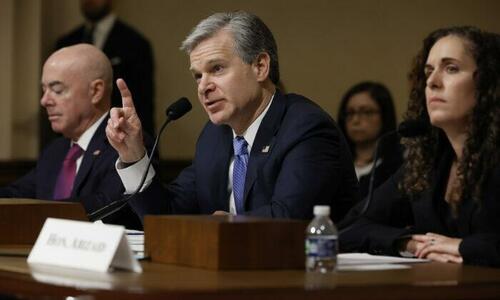 FBI Director Christopher Wray (C) on Capitol Hill in Washington, on Nov. 15, 2022. (Chip Somodevilla/Getty Images)
"I mean, remember, this went so far as the government saying, 'You need to find evidence that there are Russians influencing the election on Twitter.' And Twitter saying, 'No, that's not happening.'
"And then [Twitter had] to be quiet about it and not even defend themselves when they knew that there wasn't Russian interference that they could find," he added.
Peterson further explained that the U.S. government drove a narrative that it knew wasn't true and was the "antithesis" of America's founding principles.
"[The government's actions are] the antithesis of America. The American founding is basically contradicted by what's happening here, over and over again. And if we don't do something about that, we will not have free speech in this country," Peterson warned.
FBI and Fake News
Peterson pointed out that one of the biggest revelations in the Twitter Files—a collection of internal emails and communications made public by the company's CEO, Elon Musk—was that the intelligence community's influence on Twitter was more significant than anyone imagined.
"What you first have to realize is that a lot of people from the intelligence community were already embedded in Twitter. So much so that they had their own Slack channel chat for people who are from the FBI," Peterson said.
"And so, what you see with the censorship is not just a selective, 'we don't like this guy, we don't like this guy.' It's promoting large-scale narratives, both pro and con repeatedly, again and again and again and again."
And, Peterson said, the U.S. government didn't limit itself to shadow-banning and censorship.
In reply to the question about the Twitter Files revelation, the Department of Defense used a back channel with Twitter to create fake accounts to push a specific narrative in the Arab world. Peterson stated such actions show a direct line between the government and social media.
"So, what we see is, again, direct channels from the U.S. government—both really creating fake news and deleting anything they don't like. And people have to realize … what you see is a direct line again," Peterson said.
Additionally, Peterson said before the Twitter Files, the U.S. government and Twitter were essentially gaslighting Americans.
Billionaire Tesla chief Elon Musk arrives at the San Francisco headquarters of Twitter on Oct. 26, stating, "let that sink in" as he completes his $44 billion acquisition of the social media company. (Twitter account of Elon Musk/AFP via Getty Images)
"We should make clear that everyone claimed that this wasn't happening, right? So, the whole world was being gaslit by Twitter and friends saying, 'Oh, no. We're not shadow-banning anyone. You know this is all crazy, right-wing talk.'

"And what the Twitter Files have done is give conclusive, definitive proof of what was actually going on. And what was going on was shocking.
"I think it was worse than a lot of regular people—and even experts—thought it was. I mean, Big Pharma having a direct line to censor people when it came to their thoughts and opinions about what was going on with the vaccine and COVID? Of course, famously, [there's] the Hunter Biden laptop controversy in which news organizations were just outright censored, in violation of Twitter's own rules.
"And what we see is a direct line between the government and other powerful organizations, and a media outfit, over and over again, censoring people, essentially, at the whim of the powerful."
Peterson said such government and complicit media actions aren't on the decline. Instead, he said, it's "increasing every day."
He said action is necessary to combat that and return America to its guiding principles of free speech and limited government. "What we need to see is increasing resistance with law, and other powerful forces, fighting against this. And that starts with exposing what Elon Musk has already exposed but is now being hidden from the American public in these Twitter files."
The Twitter Files
Since taking over Twitter, Musk has consistently vocalized the need for transparency regarding what happened behind the scenes at the tech company. To that end, he, via a chosen few journalists, has released secret emails and discussions about shadow-banning or removing accounts that didn't toe the party line.
In response to the allegations of collusion between the FBI and Twitter, the FBI said in a statement to Fox News, "The correspondence between the FBI and Twitter show nothing more than examples of our traditional, longstanding and ongoing federal government and private sector engagements, which involve numerous companies over multiple sectors and industries.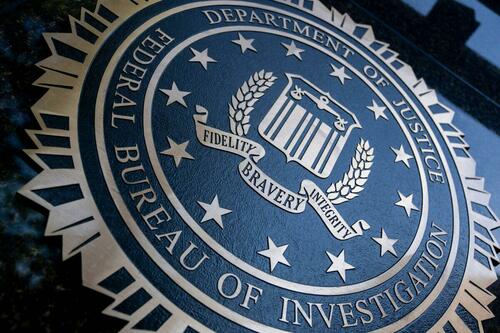 A seal reading "Department of Justice Federal Bureau of Investigation" is displayed on the J. Edgar Hoover FBI building in Washington, on Aug. 9, 2022. (Stefani Reynolds/AFP via Getty Images)
"As evidenced in the correspondence, the FBI provides critical information to the private sector in an effort to allow them to protect themselves and their customers."
The FBI National Press Office responded similarly to The Epoch Times' request for comment: "The FBI regularly engages with private sector entities to provide information specific to identified foreign malign influence actors' subversive, undeclared, covert, or criminal activities.
"It is not based on the content of any particular message or narrative. Private sector entities independently make decisions about what, if any, action they take on their platforms and for their customers after the FBI has notified them."
Tyler Durden
Sat, 01/21/2023 - 23:30