Activist Investors Swarm Salesforce
Update (1105ET):
Activist investors are swarming Salesforce. 
CNBC's David Faber reports that Jeff Ubben's hedge fund Inclusive Capital Partners LP has taken a stake in the cloud-based software firm. There was no mention of the position size. 
The news follows Elliott Management's multi-billion dollar investment in Salesforce earlier this morning. 
Also to note, Starboard Value LP bought a stake in October.
What's next? Potential moves to cut more jobs.
 *   *   * 
Salesforce Inc shares are up 5% in premarket trading after WSJ reported activist investor Elliott Management had made a multi-billion dollar investment in the cloud-based software firm. 
The activist investor has taken a stake as the business software giant slashed about 10% of its headcount, or about 8,000 employees, and reduced back office space over mounting macroeconomic headwinds. 
"Salesforce is one of the pre-eminent software companies in the world, and having followed the company for nearly two decades, we have developed a deep respect for [Co-Chief Executive] Marc Benioff and what he has built," Jesse Cohn, managing partner at Elliott, said.

"We look forward to working constructively with Salesforce to realize the value befitting a company of its stature," Cohn continued. He has previously served on the boards of Twitter, eBay, and Citrix. 
As of Friday's close, the San Francisco company had a market capitalization of $151 billion, down from $303 billion in November of 2021. 
The activist stake will pressure Salesforce and Marc Benioff, the company's co-chief executive, to achieve greater profitability. In October, Starboard Value LP bought a stake in Salesforce. The activist investor is very successful at helping companies achieve operational efficiency and margin improvement.
Perhaps one of Salesforce's overhangs is the massive influx of hiring it has done over the last several years. The latest filings show the company had about 80,000 employees globally, up from 49,000 as of Jan. 31, 2020.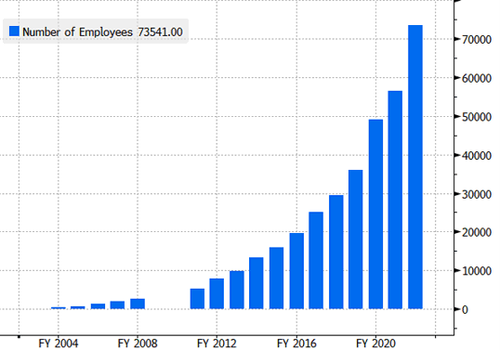 When Benioff laid off employees earlier this month, he told them in a letter, "... hired too many people leading into this economic downturn we're now facing, and I take responsibility for that."
WSJ noted, "Elliott is known for taking on tech companies and others and forcing changes that also include sales and executive shake-ups."
With two major activists in Salesforce, it wouldn't shock us if more layoffs were ahead -- and it has been the season of tech layoffs as a slowdown in the industry has led tech giants like Amazon and Google to reduce headcount. 
Tyler Durden
Mon, 01/23/2023 - 11:05