Erdogan Tells Sweden: Don't Expect To Join NATO After Quran Burning Incident
It seems the weekend Quran burning controversy in Stockholm was the straw that broke the camel's back. President Recep Tayyip Erdoğan issued some definitive sounding comments on Monday saying that "Sweden should not expect support from us for NATO."
On Saturday anti-Turkey demonstrations in the Swedish capital included an incident where a copy of the Quran was burned in front of the Turkish embassy. The Quran-burning has enraged Turkish officials, especially coming off of another protest less than two weeks ago wherein a Kurdish group hanged an effigy of President Erdogan and tweeted out images.
Erdogan on Monday said that Swedish authorities allowing it to happen (given police were looking on and didn't intervene) said it's proof they allow terrorists in their country.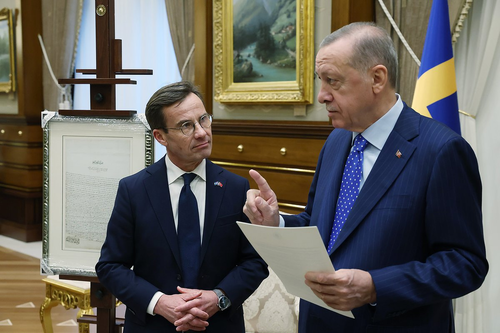 According to Turkey's Daily Sabah, Erdogan "slammed Sweden for allowing terrorist sympathizers and others freely distribute hate propaganda, saying that Stockholm should not expect Türkiye to support its NATO bid."
According to one translation, Erdogan addressed Sweden, saying that if it "does not respect the religion" of Turkey or Muslims, "then you will not receive any support from us on NATO."
On Sunday, Erdogan had reiterated demands that both Sweden and Finland as part of their NATO membership aspirations hand over hundreds of Kurdish terrorists.
"First of all, they need to extradite nearly 130 terrorists in order for their bids to pass our parliament; unfortunately, they have yet to do this," Erdoğan said at a youth rally, according to state news agency Anadolu.
But both countries have argued this in some case would require changing free speech laws. Sweden recently said it simply can't give Turkey what it wants, particularly in cases centered on protected free speech.
Turkish President Erdogan slams Quran burning incident in Sweden:

- No individual has freedom to insult faith of Muslims or other religions
- Such actions will be subject to heavy sanctions
- It insults all who respect people's fundamental rights, freedoms, especially Muslims pic.twitter.com/7iGGzcqADB

— TRT World (@trtworld) January 23, 2023
According to a description of Saturday's Quran burning incident in Al Jazeera:
The Quran burning was carried out by Rasmus Paludan, leader of Danish far-right political party Hard Line. In April last year, Paludan's announcement of a Quran burning "tour" during the Muslim holy month of Ramadan sparked riots across Sweden.

Surrounded by police, Paludan set fire to the holy book with a lighter following a long diatribe of almost an hour, in which he attacked Islam and immigration in Sweden. About 100 people gathered nearby for a peaceful counterdemonstration.

"If you don't think there should be freedom of expression, you have to live somewhere else," he said.
Turkey has requested that Swedish authorities take legal action against such demonstrations, particularly involving Kurds.
Anti-Sweden protests have popped up across Turkey and in other Muslim-majority nations:
Some 250 people gathered outside the Swedish Consulate in Istanbul, recited the Quran in response to burning of a copy of Quran outside Turkish Embassy in Stockholm.#Turkiye #Sweden #Quran #islam #islamophobia pic.twitter.com/NCFUZtTgto

— Islam Channel (@Islamchannel) January 23, 2023
Earlier this month Erdogan's office said, "We urge the Swedish authorities to take necessary steps against terrorist groups without further delay." Turkey often labels dissenting Kurdish groups as "terrorists". Meanwhile, this new Quran burning protest incident has reportedly set off large-scale protests against Sweden inside Turkey, as well as denunciations by a handful other Muslim-majority countries.
Tyler Durden
Mon, 01/23/2023 - 12:00