FBI's Most Wanted Woman, Known As 'Cryptoqueen' Sends Signal After Five Years Of Hiding
Ruja Ignatova, known as the "cryptoqueen" for her notorious multi-billion dollar OneCoin Ponzi scheme, has been declared missing since 2017 when US authorities issued a warrant for her arrest. Earlier this month, a legal filing could be the first signs of life after she fled Sofia, Bulgaria, to Athens, Greece, five years ago.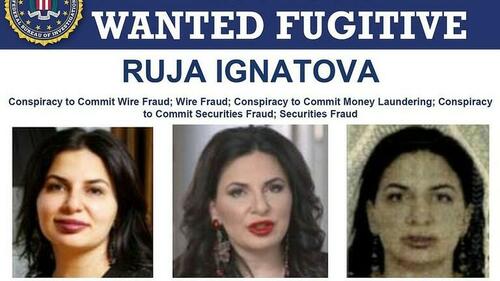 Last week, the British newspaper iNews reported that a lawyer representing Ignatova claimed a $13.6 million penthouse in central London. 
The property is owned by Abbots House Penthouse Limited, an anonymous Guernsey shell company, meaning that Ignatova's name does not have to appear on land registry deeds or in public records.

A change in Companies House rules means that beneficial owners of UK-registered firms must now be named in full. But the fugitive appears to have emerged out of hiding to make a formal claim on the London property. -iNews
Jamie Bartlett, the host of The Missing Cryptoqueen podcast, who has tried to locate Ignatova, said this news was "one of the most interesting developments in the story."
"The world's most wanted woman is now officially listed as the ultimate beneficial owner of a London penthouse," he added.

"It suggests she is still alive, and there are documents out there somewhere which contain vital clues as to her recent whereabouts. If nothing else it should make it easier for the authorities to freeze that asset – and maybe even start getting money back to victims."
The FBI believes she might have traveled on a German passport from Athens, possibly to the UAE, Germany, Russia, Eastern Europe, or even back to Bulgaria. She is on the FBI's top 10 'most wanted' list concerning $4 billion cryptocurrency fraud. It wouldn't be a surprise if she used some high-quality fake identity documents and altered her appearance to evade authorities. 
Tyler Durden
Mon, 01/23/2023 - 18:40