Poland Seeking Permission To Send Ukraine Leopard Tanks While Warning Germany Faces "Isolation"
Polish Prime Minister Mateusz Morawiecki on Monday confirmed that his country is about to seek formal permission from the German government to send Leopard main battle tanks to Ukraine. Berlin requires formal permission for any of its German-manufactured military items to be sent to third party countries, especially in active war zones.
Germany has continued to refrain from giving its permission, citing fears of uncontrollable escalation between Russia and NATO countries, while further stressing Germany is not a party to the conflict. This as some Polish officials have stressed Germany faces possible "international isolation" if it doesn't agree to send tanks. "Germany will be completely isolated if it does not give in and hand over the tanks," Poland's deputy foreign minister Arkadiusz Mularczyk told a Polish radio broadcaster.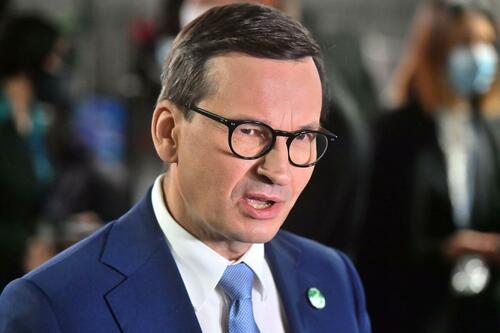 On the same day Poland said it will seek Berlin's approval, German Foreign Minister Annalena Baerbock was grilled by reporters at a European Union meeting on the issue.
She didn't give a definitive answer, appearing to dodge the questions, but instead explained: "The whole country [Ukraine] is under attack from the Russian regime, and it's clear that even 11 months after the start of the brutal Russian war of aggression, Putin has not deviated from his murderous plan to destroy Ukraine."
"That's why it's so important that we as an international community do everything we can to defend Ukraine, so that Ukraine wins — wins to live in peace and freedom again," she added. "Because if it loses this war, there will be no more Ukraine."
But as CBS reports at a moment of apparent widening division among the Western allies on the tank issue: 
A day earlier, Baerbock said on French television that Germany would not block the export of Leopard tanks to Ukraine from third countries.

"At the moment, the question has not been asked, but if we were asked, we would not stand in the way," she said after being asked what would happen, in theory, if Poland decided to supply Leopard tanks to Ukraine.
The division is on full display in Prime Minister Mateusz Morawiecki's latest comments:
When things seem to be going in a slightly better direction on the subject of heavy weapons for Ukraine, Germany steps in and raises doubts. The enemy is in the east, and we are wasting time on discussions that do not lead to anything good," Prime Minister Mateusz Morawiecki told the PAP Polish Press news agency.
Ukrainian diplomats and officials are also stepping up the pressure campaign: 
Just a kind reminder: Ukraine officially asked Germany to supply Leopard tanks on 3 March 2022, on the 7th day after russia started a war of annihilation against the Ukrainian statehood &🇺🇦nation. Today is the 334th day of barbarian🇷🇺war. Maybe it's time to speed up this process? pic.twitter.com/C3N2C6pelT

— Andrij Melnyk (@MelnykAndrij) January 23, 2023
Meanwhile Kremlin spokesman Dmitry Peskov on Monday mocked the clear "anxiety" and "legal balancing act" on display by NATO countries regarding the German tanks issue.
"This whole legal balancing act that we see now, and the exchange of statements between European capital cities… European capitals, including Warsaw, are now threatening Berlin with international exclusion and much more," he said. "All this suggests that anxiety among the members of the alliance is increasing all the time, keeps growing. But here, of course, all the countries that are directly or indirectly involved in pumping weapons and in raising the technological sophistication of Ukraine, they are all responsible for this in one way or another," the Kremlin spokesman added, according to TASS.
The Kremlin later in the day added...
POLAND MUST ENSURE CHANCELLOR BACKS GERMAN FOREIGN MINISTRY BEFORE EXPORTING LEOPARD TANKS TO UKRAINE -TASS QUOTES PUTIN SPOKESMAN
Tyler Durden
Mon, 01/23/2023 - 14:40