Turkey Outraged After Sweden Allowed Quran Burning In Front Of Stockholm Embassy
It increasingly looks like Sweden won't be admitted to NATO anytime soon, now that relations with Turkey have hit a fresh low point after months of Turkish pressure on Stockholm to crack down on Kurdish groups and anti-Erdogan protests.
On Saturday anti-Turkey demonstrations in the Swedish capital included an incident where a copy of the Quran was burned in front of the Turkish embassy. The Quran-burning has enraged Turkish officials, especially coming off of another protest less than two weeks ago wherein a Kurdish group hanged an effigy of President Erdogan and tweeted out images.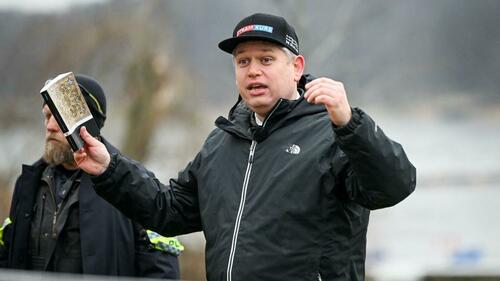 Turkey has denounced the newest protest as "vile" and went so far as to cancel a scheduled visit by Sweden's defense minister to Ankara. The meeting was supposed to continue to the dialogue over what Sweden needs to do to overcome Turkey's objections regarding NATO accession.
"We condemn in the strongest possible terms the vile attack on our holy book," a Turkish Foreign Ministry statement said.
According to a description of the Quran burning incident in Al Jazeera:
The Quran burning was carried out by Rasmus Paludan, leader of Danish far-right political party Hard Line. In April last year, Paludan's announcement of a Quran burning "tour" during the Muslim holy month of Ramadan sparked riots across Sweden.

Surrounded by police, Paludan set fire to the holy book with a lighter following a long diatribe of almost an hour, in which he attacked Islam and immigration in Sweden. About 100 people gathered nearby for a peaceful counterdemonstration.

"If you don't think there should be freedom of expression, you have to live somewhere else," he said.
Turkey has requested that Swedish authorities take legal action against such demonstrations, particularly involving Kurds, but Sweden has repeatedly cited its robust free speech laws. Further, Swedish officials have said it cannot give Turkey what it wants without changing laws regarding freedom of assembly and protest.
Sweden grants permission to burn the KORAN outside Turkish embassy https://t.co/QqH9jOe7vm via @MailOnline

— Akunjee 🖋 (@mohammedakunjee) January 21, 2023
Swedish Foreign Minister Tobias Billström, did however condemn the Quran-burning as "appalling" but stopped short of announcing any kind of legal action. "Islamophobic provocations are appalling. Sweden has a far-reaching freedom of expression, but it does not imply that the Swedish Government, or myself, support the opinions expressed," he said.
Earlier this month Erdogan's office said, "We urge the Swedish authorities to take necessary steps against terrorist groups without further delay." Turkey often labels dissenting Kurdish groups as "terrorists". Over the past several months Turkey has sought to pressure Sweden into extraditing Kurdish activists which Ankara deems as part of outlawed groups.
This new Quran burning protest incident has reportedly set off large-scale protests against Sweden inside Turkey, as well as denunciations by a handful other Muslim-majority countries.
Tyler Durden
Sun, 01/22/2023 - 19:00