"Widespread Weakness" Across US Leading Economic Indicators "Signal Recession In The Near-Term"
The Conference Board's Leading Economic Indicators (LEI) suffered a significantly worse than expected drop in December, tumbling 1.0% MoM (vs -0.7% exp), and the 1.0% decline in November was revised down to a 1.1% drop.
The biggest positive contributor to the leading index was orders for non-defense capital goods ex aircraft at 0.02

The biggest negative contributor was ISM new orders at -0.23
This is the 10th straight monthly decline in the LEI (and 11th month of 12) -  the longest streak of declines since 'Lehman' (22 straight months of declines from June 2007 to April 2008)
"The US LEI fell sharply again in December - continuing to signal recession for the US economy in the near term," said Ataman Ozyildirim, Senior Director, Economics, at The Conference Board.
"There was widespread weakness among leading indicators in December, indicating deteriorating conditions for labor markets, manufacturing, housing construction, and financial markets in the months ahead. Meanwhile, the coincident economic index (CEI) has not weakened in the same fashion as the LEI because labor market related indicators (employment and personal income) remain robust. Nonetheless, industrial production— also a component of the CEI—fell for the third straight month. Overall economic activity is likely to turn negative in the coming quarters before picking up again in the final quarter of 2023."
Despite 'soft landing' hype, the LEI is showing no signs at all of 'recovering'...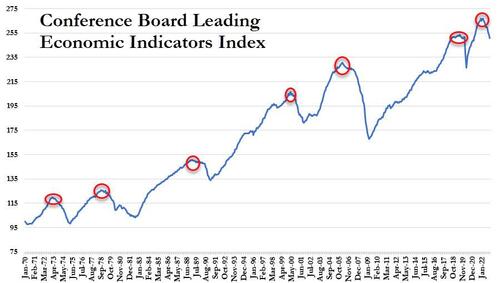 And on a year-over-year basis, the LEI is down 6.04% - its biggest YoY drop since 2008 (Lehman) outside of the COVID lockdown-enforced collapse...
Judging by this, the tightening policies of The Fed are having a 'lagged' effect.
Tyler Durden
Mon, 01/23/2023 - 10:10