3M Tumbles After Huge Miss Despite Slashing Guidance Twice, Fires 2,500; Sees "Significant" Decline In Electronics Demand
Consumer manufacturing giant 3M reported disappointing earnings on Tuesday (Q4 Adj EPS 2.28, exp. 2.36), said it plans to cut about 2,500 manufacturing jobs citing persistent economic hurdles, and forecast profit for this year that fell short of Wall Street estimates (now sees Q1 revenue of $7.2-7.6BN, exp. $8.4BN) as its CFO warned he sees electronics demand down "significantly" in 2023.  The stock tumbled.
"We expect macroeconomic challenges to persist in 2023," Chief Executive Officer Mike Roman said in a statement Tuesday.

The planned job cuts are "a necessary decision to align with adjusted production volumes," he said.
The maker of assorted consumer goods such as Post-it notes, surgical supplies and touch-screen displays sees full-year adjusted earnings for 2023 in a range of $8.50 to $9.00 per share, excluding special items. That's below the average analyst estimate. Worse, with the company missing on its adjusted operating margin for the Q4 period, it also warned that organic sales could fall as much as 3%: the industrial and consumer-goods conglomerate forecast Q1 EPS of $1.25-1.65, roughly 50% below the $2.56 consensus estimate.
What makes today's miss exceptionally bad is that the company had already twice cut its full-year 2022 sales and profit outlook, most recently in October, as a strong US dollar and shaky demand added to pressure from inflation and supply chain turmoil. It still wasn't enough.
3M had about 95,000 employees at the end of 2021, according to securities filings.
The ugly earnings report follows a rollercoaster year for the St. Paul, MN-based manufacturing giant and shows there's more turbulence on the horizon. As Bloomberg notes, 3M has battled with softening demand in key segments as well as mounting risks tied to litigation over allegedly defective combat ear plugs. It also faces liabilities over contamination caused by so-called forever chemicals, which the company plans to stop producing by the end of 2025.
3M shares tumbled 6% to $115; it plunged as low as $102.58 during the still unexplained NYSE glitch.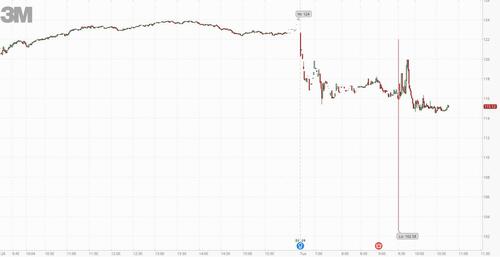 Tyler Durden
Tue, 01/24/2023 - 11:03