Controversy Swirls Over George Santos Campaign Finance Questions
Rep. George Santos (R-NY) may have engaged in a 'Bidenesque' series of lies about his bona fides to get elected, but he might actually find himself in hot water over more serious revelations over campaign finance violations - a much more serious class of misconduct which could result in expulsion from Congress, civil penalties and criminal prosecution.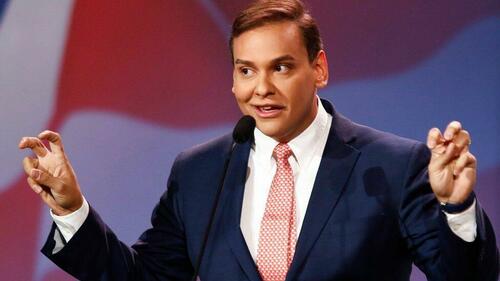 The questions center around the hundreds of thousands of dollars Santos has loaned his campaigns from personal accounts; his sharp increase in reported wealth; an outside group that was raising funds on behalf of his campaign, without being registered with the Federal Election Commission (FEC); and a host of expenses submitted by his campaign for $199.99 — one cent less than the figure requiring receipts. -The Hill
"We certainly are talking about potential FEC investigations and DOJ investigations," said Robert Maguire, head of research for Citizens for Responsibility and Ethics in Washington.
Santos, who now sits on a pair of committees, has already had calls to resign from his own party.
In addition to reported investigations into his finances, Santos also faces several ethics complaints.
Santos's personal wealth spiked between his 2020 and 2022 campaigns - which coincided with the creation of the Devolder Organization, LLC - as well as at least $705,000 in what he originally said were personal loans to his 2022 campaign.
On Tuesday, however, Santos admitted that a $500,000 loan he gave to his campaign, did not in fact come from personal funds. Now, as the Daily Beast reports, the question is where did the money come from?
However, while the new amended filing told us where the funds did not come from, it also raised a new question—where did the money come from?

While both the old and new campaign filings claim that the loans came "from the candidate," the campaign's most recent amended filing had ticked the box for "personal funds of the candidate"; on the new amended filing today, that box is unchecked.

Another amended filing on Tuesday disclosed that a $125,000 "loan from the candidate" in late October also did not come from his "personal funds," but like the $500,000 question, did not say where the money came from, when the loan was due, or what entity, if any, backed the money. -Daily Beast
In 2022, Santos reported a $750,000 salary from Devolder, and had between $1 and $5 million in his savings account, while holding between $100,001 and $250,000 in a checking account. He also owns an apartment in Rio de Janeiro with a value between $500,001 and $1 million.
Devolder, founded in May 2021 according to documents filed with the Florida secretary of state, previously claimed to have managed $80 million in assets - a claim which has been removed. According to a Dun & Bradstreet estimate from July, 2022, the company's revenue was just $43,688. Santos told WABC and the Daily Beast that he pulled money from his company as his salary, and used it to fund his c ampaign.
Then in December, he told Semafor that the Devolder Organization was in the "capital introduction" business - similar to LinkBridge, his previous employer.
"What I will do is I will go look out there within my Rolodex and be like: 'Hey, are you looking for a plane?' 'Are you looking for a boat?' I just put that feeler out there," he said, adding that he would then connect people to wealthy investors and institutions - landing "a couple of million-dollar contracts" in the first six months.
"If you're looking at a $20 million yacht, my referral fee there can be anywhere between $200,000 and $400,000," he told Semafor.
Santos has confirmed little else about the specifics of how his company made money, though some public reports have identified a few clients. 

Santos told the Daily Beast in December that the Devolder Organization contracted with Acrisure, the parent company of The Whitmore Group insurance brokerage. The Whitmore Group's CEO, James Metzger, is a major GOP donor and also contributed to Santos's campaign. 

The Devolder company was one of several organizations authorized to manage and control Red Strategies USA — separate from Redstone Strategies — according to documents reported in a Campaign Legal Center FEC complaint against Santos. FEC reports show just one political committee paying Red Strategies USA: Tina Forte for Congress, the Republican candidate who challenged Rep. Alexandria Ocasio-Cortez (D-N.Y.). It is unclear how much, if any, of the $110,320 paid from the Forte campaign ultimately went to Devolder. -The Hill
In a recent interview on the "War Room" podcast, Rep. Matt Gaetz (R-FL) asked Santos where his campaign funds originated from.
"I'll tell you what. It didn't come from China, Ukraine, or Burisma, how about that?" Santos replied.
Columbia law professor Richard Briffault said that Santos' loans may be the most consequential factor in Santos' future from a criminal justice standpoint, if they are found to constitute "an illegal means of disguising illegal contributions."
"If it turns out that that was a device for donors to funnel money to the campaign, that itself is illegal — Santos would be a 'straw donor' falsely claiming he provided the money when it really came from someone else," Briffault told The Hill on Friday.
If Santos 'knowingly' exceeded the legal limit of $2,900 per donor in any one election cycle - especially if the donors were found to be corporations or foreign entities, "we are talking about a felony," Briffault added.
What if Santos resigns? A special election, which could cost the GOP a seat.
Tyler Durden
Tue, 01/24/2023 - 17:25