Divergence Between Markets And Economy Cheapens Recession Hedges
Authored by Simon White, Bloomberg macro strategist,
Economists tend to overestimate GDP more frequently, and by a greater magnitude, in recessions. 
Markets therefore do not adequately reflect downside risk before a downturn hits. Put spreads on the retail sector and high-yield credit are among attractive recession hedges for portfolios.
Markets are implying that the odds of a recession are falling. While they can influence economies in various ways, such as through the availability of credit and the wealth effect, it is not easy for them to reverse the months of economic damage wrought through one of the fastest hiking campaigns in history.
Which is why investors should treat the market's recent buoyancy with a little skepticism.
The economic data will not turn as quickly as market data, and the former continues to be consistent with a recession.
The latest data-point was Monday's release of the Conference Board's Leading Index, which is at levels very rarely seen outside of major downturns.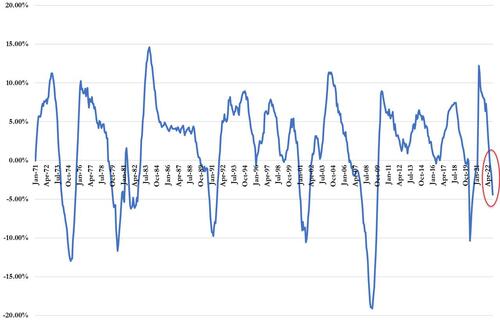 Economists tend to miss recessions, and on top of that they tend to underestimate their severity. The chart below shows that economists, based on the Philadelphia Fed's Survey of Professional Forecasters, more often make GDP overestimates in recessionary periods versus non-recessionary periods. Moreover, the size of the overestimate is higher in slumps.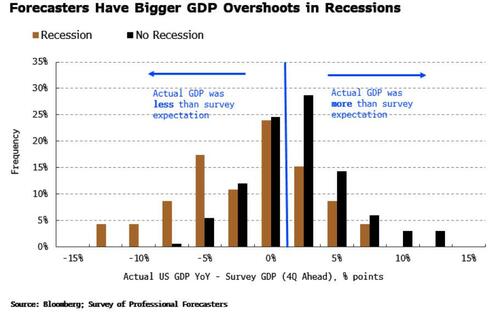 The survey currently sees the maximum trough in quarterly GDP at -1.5% in the third quarter of this year. But cyclical leading economic data and the size of the fall in the yield curve are consistent with a much deeper recession, intimating a peak trough of up to 5%.
Markets, especially equities and credit, are not pricing this outcome, meaning recession hedges, such as put spreads on the S&P (financed with calls) and the HYG ETF, look attractive.
Also attractive hedges are the retail, homebuilders and consumer discretionary sectors. These have been among the top performing sectors this year, but would struggle in a recession. Further, they also have relatively high put skew, making put spreads cheaper.
Tyler Durden
Tue, 01/24/2023 - 10:46