Flood-Damaged Cars From California Likely To Hit Used Market Soon
Authored by Jack Phillips via The Epoch Times,
Recent storms that hammered California have dumped years' worth of rain on the state, causing widespread flooding, and has prompted warnings that flood-damaged vehicles may hit the used car market soon.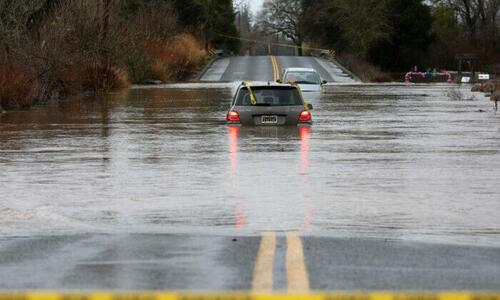 In California, 32 trillion gallons of rain and snow fell since Christmas. The water washed out roads, knocked out power, and created mudslides by soaking wildfire-charred hills. It caused damage in 41 of the state's 58 counties. At least 21 people have died, officials say.
After recent flooding hit the Los Angeles area this week, Ivan Drury, director of insights for Edmunds, said that cars that have suffered water damage could be quite unsafe even if they don't appear so on the surface.
"Number one, your electrical system: you've got so much electronics on a car, now more so than ever. Technology systems prevent you from getting into an accident, and now you are in more danger," he told the Los Angeles Times late last week.

"And there's the vehicle physically deteriorating over time."
Drury emphasized that smelling the vehicle is critical.
"You had better get your face close to carpet," he said.

"That gross, musty smell," he added, "that's a big red flag."
Consumers should take caution when purchasing a used car that was registered in a state or city where there has been recent flooding, Drury said.
Kenneth Potiker, owner of San Bernardino-based Riteway Auto Dismantlers, told the paper that he expects to see recently flooded California vehicles to appear at car auctions in the coming weeks. "I'll buy a few, I'm sure—but I stay away from a lot," he said, adding that it's difficult to tell the extent of the damage.
But he warned potential buyers that they should avoid such cars. 
"I would tell them not to buy a car like that—that would be the best advice," he said.

"If it floods inside a car, water damage is one of the worst types of damage."
Insurance companies say that many flooded vehicles often get totaled, meaning that the cost of the repair work is equal or greater to the value of the car. According to the Insurance Information Institute, some flood-damaged cars are issued a salvage title, which can alert people and companies to possible damage.
"By definition, a flood vehicle has been completely or partially submerged in water to the extent that its body, engine, transmission or other mechanical component parts have been damaged," it says.

"If the vehicle is so damaged that it is no longer operable, the driver's insurance company settles the claim by buying the vehicle and selling it as a 'salvage' at an auto auction."
But the Institute warns that "dishonest and unscrupulous car dealers" can then purchase the vehicles, clean them, but it leaves "hidden flood damage." Those dealers then take the cars to states that weren't impacted by the storm before selling them as used cars to unsuspecting buyers.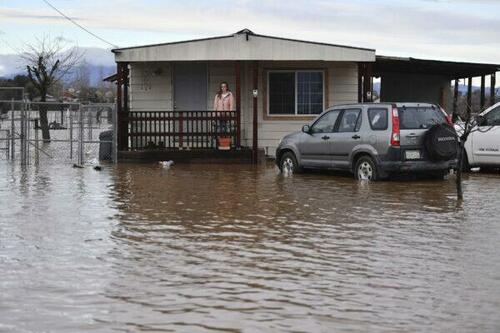 A woman waits for her husband at their front porch to be rescued from their flooded home in Brentwood, Calif., on Monday, Jan. 16, 2023. (Jose Carlos Fajardo/Bay Area News Group via AP)
And those "dishonest dealers will not disclose the damage on the vehicle's title as they are required, which is a crime called 'title washing,'" says the Institute. "The vehicles are then sold with the hidden damage."
"It's very easy for a professional to clean up a vehicle and make it look new, when, in fact, the electronics and computers are in really bad shape," Jack Gillis, chairman of the board of directors for the nonprofit Center for Auto Safety, told KOMO News.

"This can present a safety hazard."
After Hurricane Ian hammered Florida last year, vehicle data company Carfax warned consumers about purchasing used vehicles that may have water damage. At the time, it estimated that more than 350,000 vehicles might have been damaged by Ian's flooding.
"We are seeing these flooded cars show up all around the country, putting unsuspecting buyers at risk," Emilie Voss, a Carfax spokeswoman, said in a statement last year about Ian's aftermath.

"Cosmetically these cars might look great, but if you don't know what to look for, it's nearly impossible to tell they are literally rotting from the inside out."
From Dec. 26 to Jan. 17, California was deluged by 11.47 inches of rain and snow on average across the state, according to the National Weather Service's Weather Prediction Center, with some reports of up to 15 feet of snow in the highest elevations of the Sierra Nevada. Late last week, meanwhile, President Joe Biden toured a California beach town to survey damage that was done by the recent storms.
California has been hit by nine atmospheric rivers since late December. The storms have relented in recent days. Forecasters say that a dry period will envelop much of the state for the time being.
Tyler Durden
Tue, 01/24/2023 - 18:25