Market Goes Haywire With Dozens Of NYSE Trading Halts At The Open After "Technical Glitch"
Update 2 (11:15am ET): The NYSE says it is continuing to investigate the "technical issue" that caused wild stock swings at the market open Tuesday as dozens of large-cap stocks suddenly plunged or spiked during the broken opening auction.
According to the New Jersey-based New York Stock Exchange, "impacted members may consider filing for Clearly Erroneous or Rule 18 claims"  adding that "In a subset of symbols, opening auctions did not occur. The exchange is working to clarify the list of symbols."
* * *
Update (9:52am ET). According to the NYSE, as of 9:48am, all systems are back to normal, although that is an understatement in a market where nobody knows what the correct opening price is! We are still waiting for the NYSE to give a detailed explanation of what caused this latest "broken markets" episode.

While it is still unclear what was the "technical glitch" that sent the world's biggest companies into a multi-trillion market cap rollercoaster, Bloomberg reports that "a wave of sell orders targeting financial services stocks swept across American equity exchanges at the open of trading Tuesday, sending companies including Wells Fargo & Co. and Morgan Stanley to brief but sharp plunges from which they mostly quickly recovered."
After closing Monday at $45.03, Wells Fargo fell as low as $38.10 before bouncing back, while Morgan Stanley plunged to $84.93 after ending at $97.13 on Monday.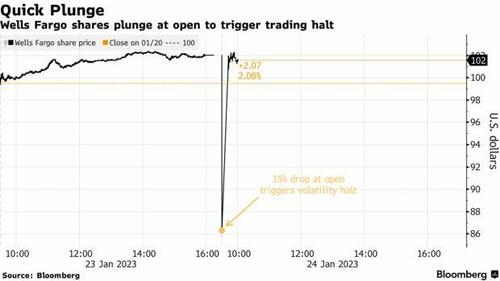 That may be accurate, it's not comprehensive as virtually every NYSE-listed stock was slammed at the open, only to rebound powerfully before tumbling once more. Indeed, as noted below, other impacted stocks included the likes of Walmart, McDonald's and Exxon. These stocks saw drops of at least 12% before they were halted. Their moves have now rebounded to less than 1% in either direction.
Separately, at least 40 S&P 500 Index stocks were hit with trading halts. Other impacted shares included the likes of Walmart Inc. and McDonald's Corp. These stocks saw drops of at least 12% before they were halted. Their moves have now rebounded to less than 1% in either direction.
"It's a little concerning," Oanda senior market analyst Ed Moya told BBG. "These are not your typical meme stock, easily manipulated companies, these are Morgan Stanley, Verizon, AT&T, these are some of the giants."
Tuesday's transactions occurred in New York Stock Exchange-listed securities and took place on virtually every trading platform, including ones overseen by CBOE Global Markets and private venues reporting to the Finra trade reporting facility.
The start of trading in most American stocks involves a complicated but usually routine process called the opening auction, designed to limit volatility resulting from orders for shares that pile up before the start of the regular session. In it, a computer balances out supply and demand for a particular stock by establishing an opening price that can be viewed as the level that satisfies the largest possible number of traders.
"We don't have all the details yet, but what it looks like is that some stocks opened and were automatically or were erroneously triggered for limit up/limit down, which threw them into a halt status," said Jonathan Corpina, senior managing partner at Meridian Equity Partners who typically works on the floor of the New York Stock Exchange.
"All of our phones are lighting up," he said. "We're trying to field calls from our customers and try to explain to them what happened, what's going on and relay as much accurate information so they understand what's happening. But as of now, things are still unfolding."
* * *
It has been a while since we had a market-wide break.
Something snapped at exactly 9:30:00 am ET this morning when stocks opened for trading, only... they didn't, as instead hundreds of NYSE-listed stocks were immediately halted for trading after breaching circuit breaker limits...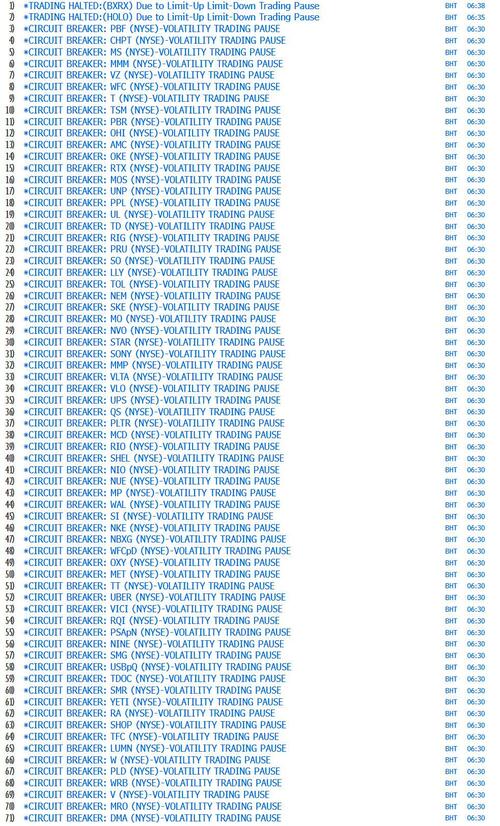 ... which among others saw giga-caps such as Exxon, Morgan Stanley, Verizon, AT&T, Nike, and Wells Fargo tumbling as much as 11%...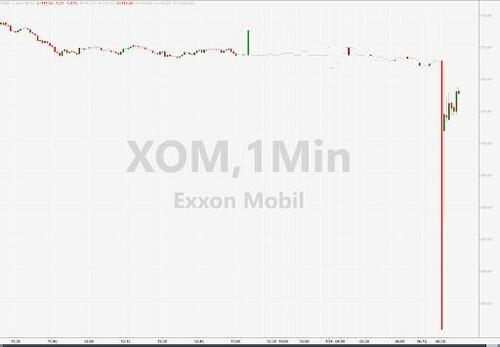 ... while McDonalds traded down to $236.42 before rebounding to $268.32 - a $55 billion swing in market cap in seconds - before being almost immediately halted.
While it is unclear what the "technical glitch", as CNBC called it, in question was many stocks had abnormally large moves when stocks opened for trading, which triggered the resulting volatility halts.
It took several minutes for the circuit breakers to be lifted and for trading to return to something resembling normalcy although nobody knows if these prices are accurate or still affected by whatever glitch halted trading.
Tyler Durden
Tue, 01/24/2023 - 12:25