Mattress Giant Serta Simmons Files For Second Bankruptcy In Two Years
Atlanta-based mattress giant Serta Simmons Bedding filed for bankruptcy protection late on Monday in an effort to trim its debt load following a 2020 out-of-court restructuring which clearly did not trim nearly enough debt.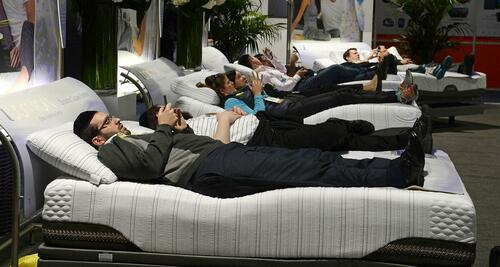 The Atlanta-based mattress maker filed in the Southern District of Texas on Monday, listing assets of $1 billion to $10 billion and liabilities in the same range in its petition. The company's debt, which stems from a roughly $3 billion leveraged buyout by Advent International in 2012, has hobbled the retailer. Confidential talks over a restructuring plan started late last year, Bloomberg earlier reported.
Serta's financial woes were exacerbated during the pandemic, while more recently the explosion in inflation weighed on the mattress retailer, which has a sizeable debt load maturing this year.
The Chapter 11 filing allows Serta to continue operating while implementing a deal, backed by a majority of lenders and shareholders, to cut its debt to $300 million from $1.9 billion, the company said in a statement. The company's restructuring plan, which is subject to court approval, includes an $125 million debtor-in-possession asset-based loan, court papers show. The firm has also secured a commitment of $125 million in the same form once its exits bankruptcy. As Bloomberg notes, Serta requested approval to pay back suppliers either during the bankruptcy or after it completes the process. Nearly all of its top unsecured creditors are suppliers, with the top creditor owed more than $17 million, the filings show.
Serta agreed on a previous restructuring with creditors in 2020 that added $200 million of fresh capital while allowing some lenders to jump to the front of the repayment line. Other lenders were pushed back, a process known as priming. A group of funds including Angelo Gordon & Co. and Apollo Global Management sued Serta and rival lenders in the hopes of invalidating the transaction. In retrospect it was all for nothing.
Serta is working with advisers Weil, Gotshal; Evercore Group and FTI Consulting, while Gibson Dunn and Centerview are advising creditors; Ropes and Gray are working with Advent.
The case is Serta Simmons Bedding LLC, 23-90020, US Bankruptcy Court for the Southern District of Texas.
Tyler Durden
Tue, 01/24/2023 - 15:40