Murdoch Scraps Fox, News Corp Merger After Investor Pushback
Back in October, and nine years after Rupert Murdoch split up his media empire in two, we learned that the 91-year-old media mogul was exploring a recombination of Fox News and the Fox broadcast business. This proposal promised to reunite the parents of Fox News and the Fox broadcast business with the print news operation that includes the Wall Street Journal, the New York Post and HarperCollins book publishing.
The recombination was a controversial one; from the very beginning activist investors such as Irenic Capital, which owns 2% of News Corp took issue with the potential merger with Fox, noting the latter's advertising exposure and legal exposure and also undervalued News Corp assets, including its online real estate operation. A combination would create a more complex company and turn off investors, instead of boosting the company's lagging stock price, it said in a letter to the News Corp. board, suggesting, instead, a spinoff of the digital real estate business or of Dow Jones. Irenic also said that a merger would benefit Fox far more than News Corp. and warned that the board has a fiduciary duty to explore all possible avenues to create value beyond the one suggested by its primary shareholder.
Fast forward to today when the shareholder activists won: after the close on Tuesday, Fox  announced that the proposal to combine Fox and News Corp has been called off, after Murdoch's attempt to bring together the two halves of his media empire faced stiff resistance from shareholders.
Murdoch's companies announced on Tuesday that the "special committees" established to explore merger terms would be disbanded with immediate effect, on the grounds the merger proposal did not serve the interest of shareholders of Fox and News Corp "at this time".
"In withdrawing the proposal, [Rupert] Murdoch indicated . . . that a combination is not optimal for the shareholders of Fox and News Corp at this time," the statement said.
News Corp. shares fell more than 1% in after-hours trading, while Fox shares rose by about 2%. The shares are about 15% higher from the lows hit after the proposed merger was first announced.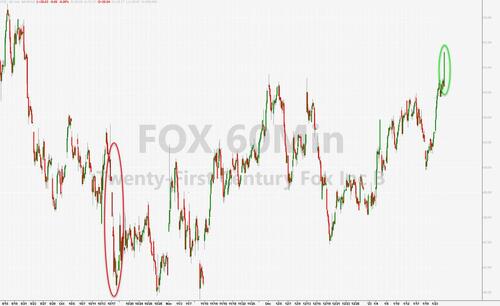 Tyler Durden
Tue, 01/24/2023 - 18:05