"Now Or Never": Japan PM Warns Of Dire Consequences Over Plummeting Birth Rate
The Prime Minister of Japan says the country is in a precarious position as a society over its plummeting birth rate.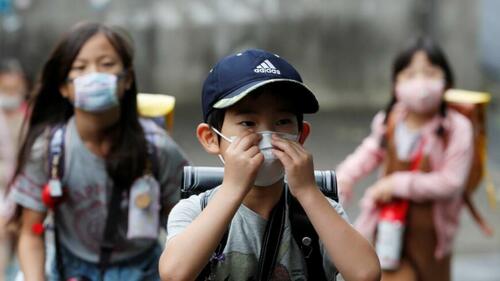 "Japan is standing on the verge of whether we can continue to function as a society," said Fumio Kishida, saying that the situation was a case of "now or never."
"Focusing attention on policies regarding children and child-rearing is an issue that cannot wait and cannot be postponed," he added.
The island nation currently has a population of 125 million, and had just 800,000 births last year. For comparison, that figure was north of 2 million in the 1970s.
And while other Asian nations have experienced similar slowing birth rates, Japan's issue is particularly acute as life expectancy has risen at the same time - meaning there are a larger of older people, with a declining pool of working-age people to support them.
In fact, Japan has the world's 2nd highest percentage of people over the age of 65, after the tiny state of Monaco, the BBC reports, citing data from the World Bank.
The comments come as Kishida's cabinet approval rating has dropped another 2.7% from last month to 26.5% - the lowest since he took office in Oct. 2021, according to Jiji, citing its latest poll conducted Jan. 13-16. The poll also found that just 40.9% of people approve of the government's response to coronavirus, while 31.2% say they disapproved.
Kishida added that eventually he wants the Japanese government to double its spending on child-related programs, and wants a new government agency set up by April to focus on the issue. That said, previous strategies to lift the birth rate have been met with limited success.
Falling birth rates are driven by a range of factors, including rising living costs, more women in education and work, as well as greater access to contraception, leading to women choosing to have fewer children.

...By 2050, it could lose a fifth of its current population.

Yet its hostility to immigration has not wavered. Only about 3% of Japan's population is foreign-born, compared to 15% in the UK. In Europe and America, right-wing movements point to it as a shining example of racial purity and social harmony. -BBC
Meanwhile, real wages in Japan haven't grown in 30 years, while incomes in South Korea and Taiwan have caught up and overtaken the country.
Tyler Durden
Tue, 01/24/2023 - 04:15