Pentagon Planning GOP House Speaker McCarthy Visit To Taiwan This Spring
New House Speaker Kevin McCarthy is planning his own Taiwan trip later this year, following former speaker Nancy Pelosi's early August visit which had set off weeks of PLA military drills which encircled the self-ruled island, including repeat breaches of the Taiwan Strait median line. 
Fox News reported that the Pentagon is aware and busy making preparations. "The US military is drafting plans to ensure  safety on a trip to Taiwan later this year," Fox reported.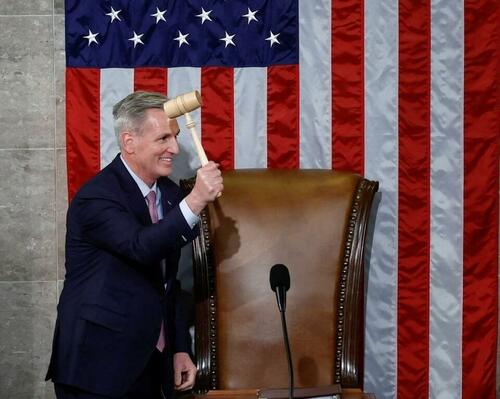 Punchbowl News was the first to report the trip earlier in the day Monday, and said the US military is in the "early stages" of laying the logistical groundwork.
"McCarthy expressed support for Pelosi's trip at the time and said he'd also travel to Taiwan if elected speaker," Punchbowl wrote. "And just recently, McCarthy touted the House's vote to establish a select committee on China, which received significant Democratic support."
An official involved in the preparations indicated it's expected to take place at some point in the spring. Pelosi's visit had been teased for months as a possibility but was only made public when she was already en route and about to touch down in Taipei on August 2nd, accompanied by a delegation of five Democratic Party members. They flew out the next day after meeting with top officials including President Tsai Ing-wen.
China is already signaling severe opposition to another such ultra-provocative visit by a sitting US house speaker, an office third in line from the presidency after the vice president.
For example, state-run Global Times addressed earlier stirrings last week when rumors of McCarthy's trip began to surface:
"If McCarthy does visit Taiwan in 2023," a GT article began, "China-U.S. relations will witness another shock comparable to or even worse than that in August 2022 when Pelosi visited Taiwan."
McCarthy, long an advocate of getting 'tougher' on China, hopes to lead the House-led GOP toward putting greater scrutiny on Beijing and making the US economic and military rival a top foreign policy priority.
Tyler Durden
Mon, 01/23/2023 - 21:00