Short-Squeeze Stalls Amid Equity Market Mayhem; Bonds & Bullion Bid
Richmond Fed affirmed recent weakness in 'soft' data (at six month lows) while 'hard' data has been sustained (and the S&P Global US PMIs were both ugly - despite small beats - remaining in contraction)...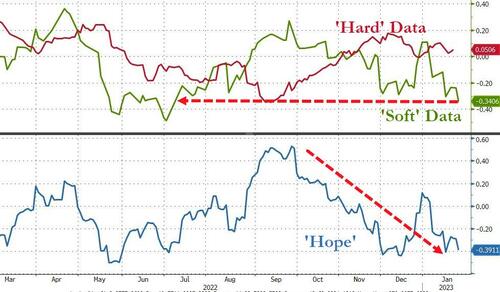 Source: Bloomberg
But the big headlines were made at the cash open when 100s of stocks failed to open 'correctly' with major gaps higher or lower everywhere before trading was halted...
VZ +7%...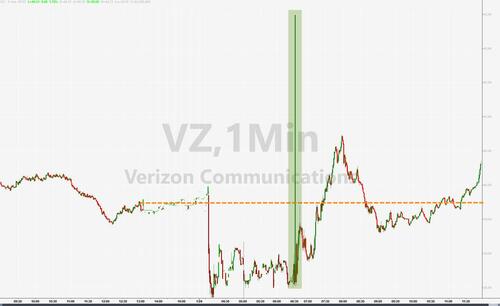 WFC -11%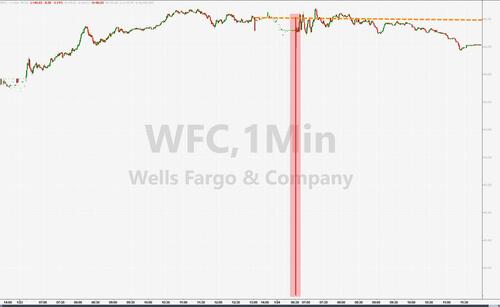 That created a massive shit-sandwich around the cash open, but given the algos' confusion the chaos continued for a while and markets definitely traded with less fluidity today. The last hour saw a wave of selling hit (no obvious headline catalysts) but that was met with a last minute panic-bid. The Dow was the day's only green close while Nasdaq and Small Caps lagged...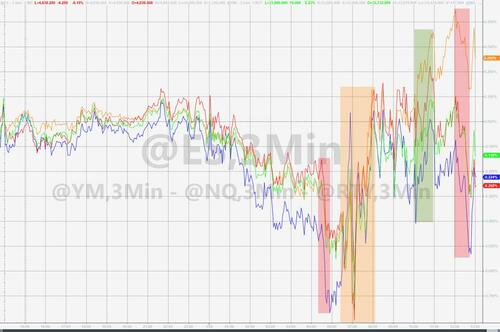 Goldman's 'Soft Landing' Basket stalled today...
Source: Bloomberg
As did 'Most Shorted' Stocks, which double topped at last week's highs which happen to coincide with pre-December-CPI levels...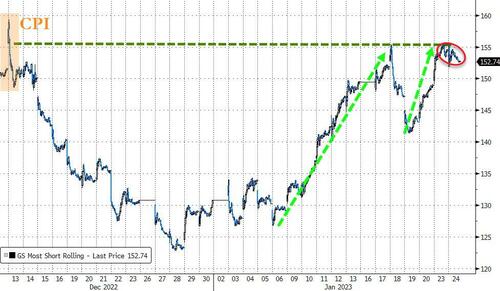 Source: Bloomberg
Treasuries were bid today with the long-end outperforming (30Y -6bps, 2Y -1.5bps). On the week 10Y and 30Y Yields are lower while the rest are higher led by 2Y (though a strong auction helped the short-end bounce back a little)...
Source: Bloomberg
The kink in the T-Bill curve remains a signal that the market is not shrugging off the debt ceiling debacle...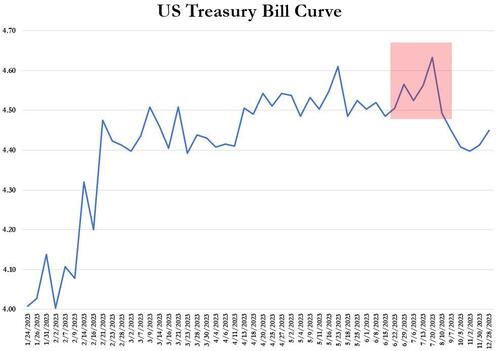 Source: Bloomberg
The dollar continued to drift sideways-to-gently-lower since the CPI print...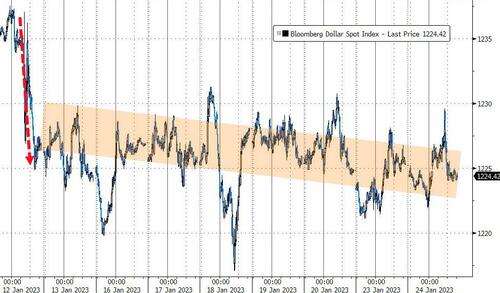 Source: Bloomberg
Bitcoin also trod water, hovering around $23,000...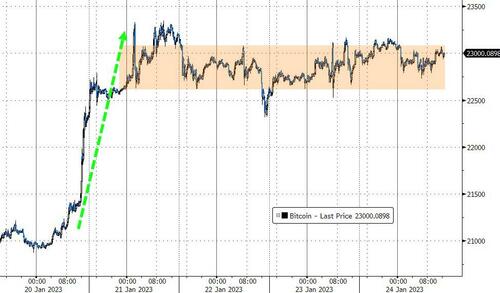 Source: Bloomberg
Gold dumped and pumped intraday (at exactly the same time as yesterday and Friday) but ended higher...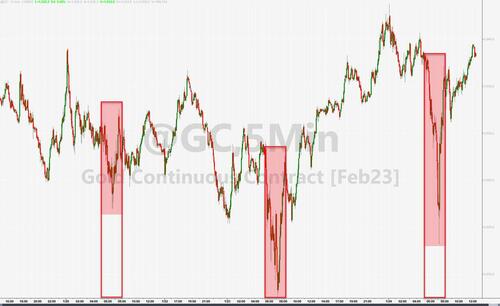 Oil prices tumbled most in 3 weeks - not helped by weakness in the US PMIs - with WTI falling back to a $79 handle...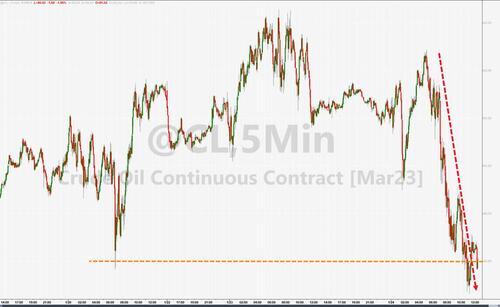 Finally, despite hope for a 'soft landing' or for a 'pause' by The Fed, the market's expectations for Fed rate trajectories has continued to drift hawkishly this last few days...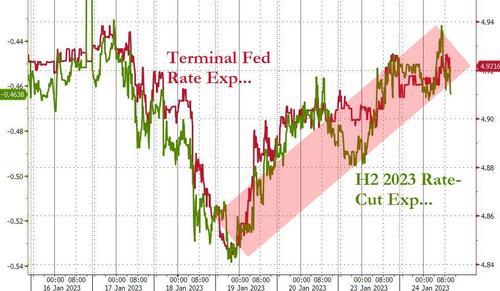 Source: Bloomberg
And while Feb odds of anything over 25bps are dwindling, the odds of a 25bps hike are rising in March...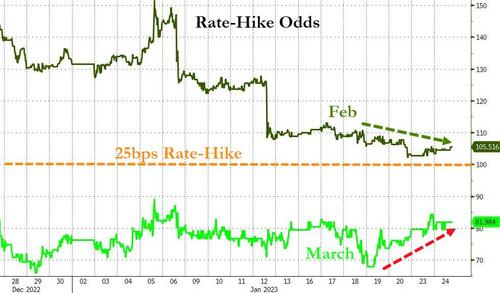 Source: Bloomberg
Bloomberg notes a build up - although small in size - of dovish options bets on Fed trajectory in recent days (such as a Sept 23 bet that rates will be up 25bps - the market is currently pricing in around 45bps), but June remains the market's expectation for the terminal rate (around 4.92%) before rate-cuts begin quickly...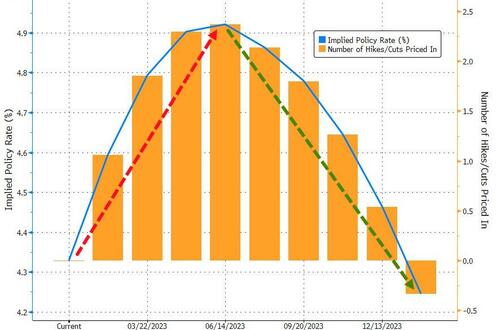 Source: Bloomberg
"Given the timing of the window between the February and March FOMC meetings, the Fed will have a much greater understanding of the performance of the US economy when it meets late in Q1," Ian Lyngen, the head of US rates strategy at BMO Capital Markets in New York, wrote in a note Monday.
"We don't anticipate the information gained during the next intermeeting period will be sufficient to prevent a quarter-point move in March, but it could take a May hike off the table."
Indeed, with financial conditions so drastically (and loosely) decoupled from monetary policy (and The Fed's dotplot)...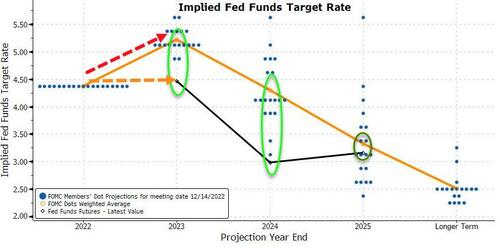 Source: Bloomberg
...we suspect Powell won't just sit there and take this "unwarranted easing" without a Jackson-Hole-esque pushback.
Tyler Durden
Tue, 01/24/2023 - 16:01