US Confronts China Over State-Owned Companies Supplying Russian Military
The United States is once again putting pressure on China over its alleged behind the scenes assistance to Russia as it executes the war in Ukraine.
"The Biden administration has confronted China's government with evidence that suggests some Chinese state-owned companies" may be providing assistance, Bloomberg reports, while seeking to "ascertain if Beijing is aware of those activities, according to people familiar with the matter."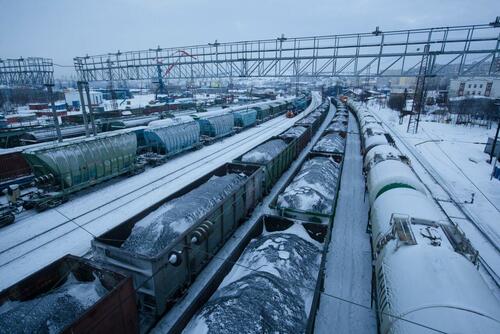 The sources cited in the report said the support involved non-lethal military aid and economic assistance that "stops short of wholesale evasion of the sanctions regime" put in place by the US and its allies on Russia. 
It's believed that non-lethal equipment such as helmets and flak jackets are being transferred, which US officials say is still "concerning" - and Secretary of State Tony Blinken is expected to inquire about the issue when he travels to China within coming weeks.
Washington has since the start of the Russian invasion worried that Moscow and Beijing's mutual declaration of having a "friendship without limits" at the Putin-Xi summit on Feb. 4, 2022 will turn into supplying the Russian war machine militarily. 
There have even been suggestions coming out of US officials that President Xi knew about the invasion beforehand, something Beijing as firmly denied. The timing of Putin's cozy visit with this Chinese counterpart, having come just weeks before he ordered the Ukraine invasion, has long raised eyebrows.
The issue of potential sanctions-violating items sent to Russia by state-owned companies has been raised directly with top Chinese government officials in the foreign ministry. "The trend is worrying enough that US officials have raised the matter with their Chinese counterparts and warned about the implications of supplying material support for the war," Bloomberg details.
But then even if the Chinese government is shown to have had direct knowledge of its state-owned firms sanctions-busting activities, the question remains of how far the Biden administration is will to go in terms of punishment. 
If Russia loses, China is next on the US list https://t.co/hYbLbAaYnI

— Elijah J. Magnier 🇪🇺 (@ejmalrai) January 18, 2023
The Bloomberg report highlights the dilemma in the following: "And if Biden and his advisers determined China's government was involved in or tacitly accepted the actions of those state-owned enterprises, they would be forced to decide how much to push back."
And further: "That could risk opening a whole new area of dispute at a time when the US has sought to balance its desire for stabilized ties with Beijing against moves to limit Chinese access to high-end mircochips and confront China over what it sees as a more aggressive posture toward Taiwan."
The Kremlin potentially being able to tap China as a reliable military supplier would have huge repercussions for its war effort especially given the widespread assumption that Russia is fast depleting its artillery reserves. A large, powerful secret backer which could keep up fresh supply would be a game-changer, also at a moment the Ukrainian side is desperate for more from its Western backers. US intelligence has lately eyed North Korea too as a culprit in aiding the Russian invasion via equipment and ammo. The US has recently alleged Pyongyang is arming the Wagner private military firm in particular.
Tyler Durden
Tue, 01/24/2023 - 09:02