WTI Holds Losses After API Reports Biggest Cushing Build Since April 2020
Oil prices traded down today after punching up to seven-week highs with WTI back to a $79 handle after weak 'soft' survey data poured more cold water on the idea of a 'soft landing'., along with disappointing results from a handful of economic-activity bellwethers, such as Union Pacific and 3M. These results have tempered optimism for the economy in the near-term.
Oil prices declined on "uncertainty about how much of a demand boost we'll see, and concerns over a weakening U.S. economy constrains the upside," said Michael Hewson, chief market analyst at CMC Markets U.K.

"With the latest PMI numbers in US, Europe and the U.K. showing signs of weakness despite lower energy prices, some doubt is creeping in around any sort of rebound in economic activity," he said in market commentary.
After two crazy weeks of inventory builds (in crude and at Cushing), all eyes are on this week's data as the impact of storms and deep-freezes begins to wear off.
It's the second week in a row with no release of oil from the Strategic Petroleum Reserve, "but at the same time refinery maintenance could lead to an increase in crude oil supply," Phil Flynn, senior market analyst at The Price Futures Group, told MarketWatch.
There's an "expectation that we could see an increase in supply in the Cushing, Okla. delivery point," he said. However, oil products are "still very tight and the focus will be on both gasoline and diesel supplies."
API
Crude +3.378mm

Cushing +3.928mm - biggest build since April 2020

Gasoline +620k

Distillates -1.929mm
Crude inventories rose for the 5th straight week, but the size of the build was much more 'normal' than the last two.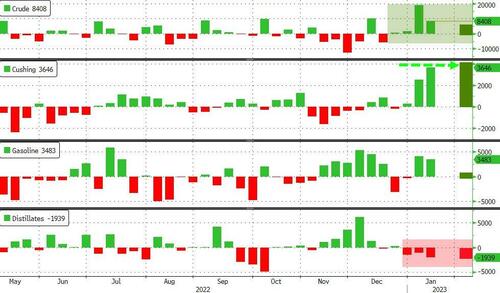 Source: Bloomberg
Cushing stocks rose for the 4th straight week, by 3.928mm barrels - the most since April 2020...

Source: Bloomberg
WTI was hovering just above $80 ahead of the print and was unmoved after the data hit...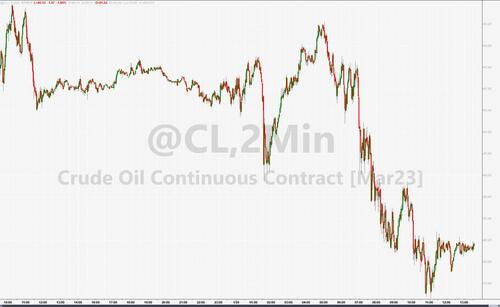 Oil advanced over the past two weeks on China's swift pivot away from Covid restrictions, which may spur daily consumption to hit a record in 2023. Still, OPEC and its allies are staying conservative with production, as the group is expected to leave levels unchanged when they meet next week.
Finally, President Biden has a problem as gas prices at the pump are about to start accelerating fast...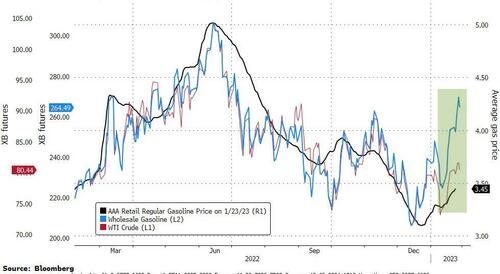 On Feb. 5, the European Union will impose a ban on imports of Russia-refined petroleum products, and a price cap on Russian oil products will also take effect. That follows an EU embargo and G7 price cap on Russian seaborne oil last month.
"A key question is whether these measures are already lowering or will further lower Russian oil production," said Stephen Innes, managing partner at SPI Asset Management, in a market update.
Tyler Durden
Tue, 01/24/2023 - 16:38