Biden Says He Won't Let GOP 'Wreck' Economy While McConnell Says McCarthy Needs To Craft Debt Ceiling Deal
During a Tuesday meeting with Congressional Democrats, President Joe Biden said that he has "no intention of letting the Republicans wreck our economy."
"Nor does anybody around this table," he continued, nodding to Senate Majority Leader Chuck Schumer (D-NY) and House Minority Leader Hakeem Jeffries (D-NY).
"[We] want to build this economy from the bottom up, the middle out," said Biden, adding "We also want to talk about the extreme Republican economic plans."
The president appeared to sarcastically refer to some of the plans Republicans have to cut costs.

Democrats, he said, are looking forward to talking "a lot about that." -WaPo
Meanwhile on the other side of the aisle, Senate Minority Leader Mitch McConnell (R-KY) said on Tuesday that House Speaker Kevin McCarthy (R-CA) needs to spearhead crafting a solution to the debt ceiling.
"I can't imagine any debt ceiling provision passed out of the Senate with 60 votes could actually pass this particular House," McConnell told reporters on Tuesday. "So I think the final solution to this particular episode lies between Speaker McCarthy and the president."
McConnell said it would be 'reasonable' for McCarthy to consider spending cuts as part of a plan to extend the debt ceiling before a June 5 deadline that the Treasury Department says needs to be me, lest the country face 'economic calamity.'
According to McConnell, it's "entirely reasonable for the new speaker and his team to put spending reduction on the table. "I wish him well in talking to the president. That's where a solution lies."
McConnell's remarks raise pressure on McCarthy, who is seeking to navigate demands from House GOP hard-liners to force aggressive spending cuts as part of any debt ceiling extension. While McConnell has negotiated past deals with Biden, including when he was vice president, McCarthy has little experience negotiating complicated deals with Democrats. It's not clear what, if anything, can get the votes to pass the House, where Republican control a narrow majority. -NBC News
Biden and the Democrats, however, say they won't entertain cuts or other negotiations.
According to Schumer, the ball is indeed in McCarthy's court.
"McConnell made the argument for us. He says the House has to go first," Schumer told reporters. "We're just taking that one little step further and saying yes, not only that to go first, they have to show us a plan."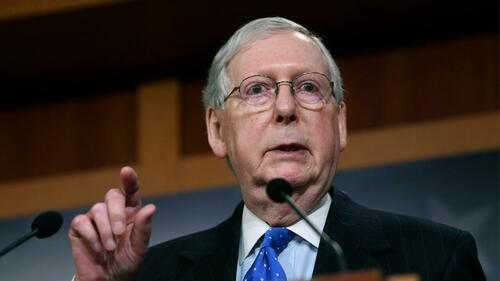 Earlier Tuesday, Schumer said that "default would be a catastrophe for American working families. It's not an abstract issue. It's going to affect every American family severely and adversely," adding "And playing brinksmanship, taking hostages is being risky and not caring about average people. If MAGA GOP stops paying our nation's bills, Americans pay the price."
Translation; prepare for more chaos.
Tyler Durden
Tue, 01/24/2023 - 19:05