Blowout Demand In Record-Breaking 5Y Auction As Bond Market Laughs At "Higher For Longer"
After yesterday's blowout 2Y auction which printed barely above 4%, and showed just how little faith the bond market has in Powell's "higher for longer", moments ago we got an even more impressive 5Y auction which not only showed relentless buyside demand but blew away several records.
Printing at a high yield of 3.530%, this was not only the 5th consecutively lower 5Y yield, and some 70bps below the September high of 4.228%, but it was a whopping 44bps below December's high yield of 3.973% and also stopped through the When Issued 3.554% by a whopping 2.4bps, which was the second highest stop through on record going back to Jan 2016 (only Oct 21's 2.5bps was bigger).
The bid to cover was likewise stellar, surging to 2.64 from 2.46 last month, which was not only far above the recent average of 2.39 but was the highest since Aug 2020.
Finally, it was the internals that were truly outstanding with both Indirects and Dealers setting new records: specifically, the Indirect award was a blowout 75.74%, up from 64.51% last month and the highest, well, on record, while Dealers tumbled by 50% from 16.9% to just 8.8%, which was also the lowest on record.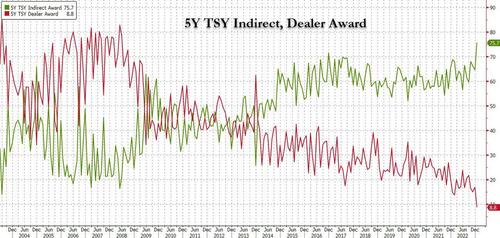 Overall, this was an AAA+++ auction and may well have been the strongest 5Y auction in history, and comes at a time when nobody - not a soul - in the bond market thinks that the Fed's higher for longer is even remotely credible, and instead the record breaking demand indicates that it is only a matter of time before the Fed slashes rates and/or restarts monetization of the debt. And judging by today's powerful rebound in stocks, they also got the memo.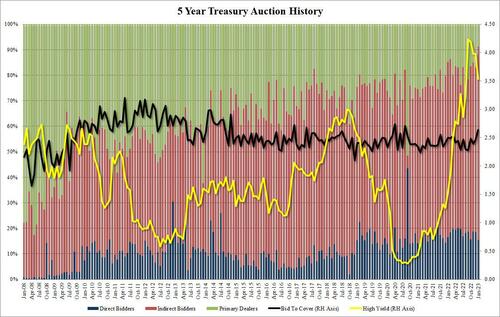 Tyler Durden
Wed, 01/25/2023 - 13:38