Brazil's Central Bank On The Verge Of Raising Its Inflation Target As It Spirals Into The Inflationary Abyss
Over the past year, we have repeatedly said that the endgame for this particular episode in central bank stupidity will be when the Fed is dragged, kicking and screaming, into hiking the US inflation target (read this, this and this).
At some point Fed will concede it has no control over supply. That's when we will start getting leaks of raising the inflation target

— zerohedge (@zerohedge) June 21, 2022
And while it will take at least a few more years before the Fed admits defeat - should it pause and/or pivot it will take far shorter - one place where a central bank inflation target increase is imminent, is Brazil.
To be sure, Brazil is a bit of a basket case, having had its share of close encounters with terminal socialism, most recently in October when Luiz Inácio Lula da Silva (Lula) defeated Bolsonaro to became president for a second time (and a first-ever third term) while promising all the irresistible delights of socialism, if not communism. And like every self-respecting socialist, Lula quickly figured out that what he needs first and foremost, is control over the central bank.
The problem, as everyone knows, is that giving access of a country's money printer to a true-blue socialist is sovereign suicide, and in Brazil It took decades of cajoling and lobbying by the financial community to finally shield the central bank from political meddling.
So when President Luiz Inacio Lula da Silva, just three weeks into office, questioned the need for an autonomous central bank during a national TV interview last week, it didn't go over well in markets... even if nobody was really surprised. Swap rates surged and the currency tanked following his remarks. Cabinet members entered the field and managed to halt the plunge that day, but the episode left many investors increasingly alarmed about a Lula presidency they are finding to be vastly different than the one that oversaw an economic boom back in the first decade of the new the century.
As Bloomberg notes, as part of his socialist overhaul, Lula has packed his economic team with "left-wing loyalists, lambasted fiscal rules and now, with his thinly veiled attack on central bank autonomy, taken a posture that raises doubts about the government's commitment to quelling consumer prices increases in a country with a long history of nasty inflation outbreaks." Which is ironic since so much of the US establishment was openly rooting for a grand ole socialist time under Lula and was so very happy when Bolsonaro lost by the narrowest of margins.
And like every socialist (or despotic tyrant for that matter) who promises the sun, moon and stars... if only he had access to an infinite supply of (soon to be devalued cash), Lula quickly grasped that what he needs is to strip the central bank of its independence. As such, his saber-rattling is born in large part out of frustration, investors say, with the growing clash between their fiscal policy - aimed at boosting a sputtering economy - and the central bank's high interest-rate policy -  designed to bring inflation back down to target.
But what if one goes for the classical Faustian bargain: let's make life a little bit easier for everyone if we all agree on just a little more inflation? Well, that's precisely what Lula is doing.
Last Wednesday, in a wide-ranging interview with Globo TV, Lula downplayed the importance of an independent central bank, and addressed the country's soon-to-be-raised inflation target.
Taking a page right out of Erdogan's playbook (as a reminder, in Turkey the central bank has lost all of its autonomy in recent years as Turkey's dictator appointed close friends and allies to run it under fear of immediate termination if they refuse to follow orders), Lula said that "there was a lot of discussion in this country to have an independent central bank, believing that it would be better," (during Lula's initial two terms in office, the bank's chief, Henrique Meirelles, said the president had given him de-facto autonomy to set monetary policy). Lula then said that "it's silly to think that an independent central bank governor is going to do more than when the president appointed him."
Which, of course, is precisely what he would say when considering his bigger goal, which is - drumroll - raising the Brazilian inflation target. As Bloomberg noted, during the interview, Lula defended moves to raise the country's inflation target and said that he would be forced to tighten economic conditions to reach the target and questioned why not set higher than the current 3% goal established for 2024, mentioning 4.5% as a possibility.
And since every radical monetary overhaul needs a social crisis, the CIA Brazil conveniently had just that a few days prior. The president said in the interview that he views the storming of the presidential palace, the congress and the Supreme Court building on Jan. 8 to have been "the beginning of a coup" and that the rioters were acting "according to the order and guidance that Bolsonaro gave for a long time."
"His decision to keep quiet after losing the election, weeks and weeks of not saying anything; his decision not to hand the sash to me, to leave for Miami as if he were running away in fear of something; and his silence even after what happened here, gave me the impression that he knew everything that was happening, that he had a lot to do with what was happening," Lula said.
Ah yes, implementing revolutionary monetary policy overhaul at a time when a group of people (without military support) storms the local center of power, and the former president is constantly used by the media and the deep state as an endless propaganda distraction from what matters... it's almost as if we've seen that particular play before.
So what happens next? Well, since there is nobody that can prevent Lula from achieving what he wants (see Turkey) it's only a matter of time before Brazil becomes the first quasi-modern central bank to raise its inflation target during this particular monetary cycle.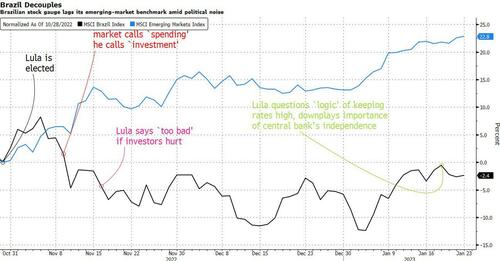 The soon-to-be-toothless central bank chief Roberto Campos Neto himself addressed concerns about Lula's intervention several times, saying such moves could "reduce the power" of monetary policy and reinforcing that policy makers "won't hesitate" to raise interest rates if needed.
Meanwhile, as foreign investors watch the Brazilian socialist tragicomedy unwind in real time terrified of what the outcome for the country's inflation will be, they have been avoiding local assets. Vista Capital had flagged an attack on the central bank's autonomy as a "relevant risk" being underestimated by markets in a note at the end of last year, but the topic became ubiquitous following the interview, with money managers now expecting the administration to force a change in Brazil's inflation goals. The government is expected to set 2026's target in June, and will almost certainly revise the current goal of 3% for 2024 and 2025 to 4.5% as Lula hinted.
"Lula's decision to publicly state twice that the inflation target should be higher did not go unnoticed, and may further reinforce increasing inflation expectations over longer periods" in the central bank's weekly survey, JPMorgan economist Cassiana Fernandez wrote in a note as Bloomberg reported. Sure enough, analysts in the survey have raised estimates for 2023 inflation six weeks in a row, and also see consumer prices rising above target through 2025.
Campos Neto seemed to mostly shrug off Lula's remarks, acknowledging interest rates were currently high while also reiterating the bank will continue to act independently — something that's helped curb volatility in markets, he said late last week, at least until Lula makes it very clear that he is in control of the central bank. As such, locals are watching for what they say is the first true test to the bank's autonomy: the appointment of a replacement for Bruno Serra, who's expected to step down as monetary policy director in February.
Campos Neto plans to suggest a name for the post, with Banco Santander's Sandro Sobral gaining momentum among the possibilities, according to people with knowledge of the matter, who asked for anonymity discussing private information. But ultimately it's up to the president to name Serra's replacement, and it will most likely not be the most qualified candidate but instead some crony of Lula's.
What happens next? Look to Argentina for clues. As for all those in the US deep state and assorted hanger-on billionaires who backed Lula over Bolsonaro, they are following events in Brazil most closely, knowing well that once the inevitable economic crash pans out - as it does every time a socialist is in charge - it will be only a matter of time before they can buy up Brazil's vast riches at pennies on the real.
Tyler Durden
Tue, 01/24/2023 - 20:45