Chevron Surges After Unveiling $75 Billion Buyback Plan "While War Is Raging"
In what some might just call a giant "fuck you" to the Biden administration, Chevron has unveiled plans to buy back $75 billion in shares after reaping record quarterly profits in 2022, and increased the company's dividend.
The Board of Directors of Chevron Corporation (NYSE: CVX) today declared a quarterly dividend of one dollar and fifty-one cents ($1.51) per share, an increase of nine cents ($0.09) per share or approximately 6 percent. The dividend is payable March 10, 2023, to all holders of common stock as shown on the transfer records of the Corporation at the close of business February 16, 2023. This increase puts Chevron on track to make 2023 the 36th consecutive year with an increase in annual dividend payout per share.

The Board also authorized the repurchase of the company's shares of common stock in an aggregate amount of $75 billion. The $75 billion authorization takes effect on April 1, 2023, and does not have a fixed expiration date. It replaces the Board's previous repurchase authorization of $25 billion from January 2019, which will terminate on March 31, 2023, after the completion of the company's repurchases in the first quarter 2023.
Chevron is scheduled to report fourth-quarter results on Jan. 27.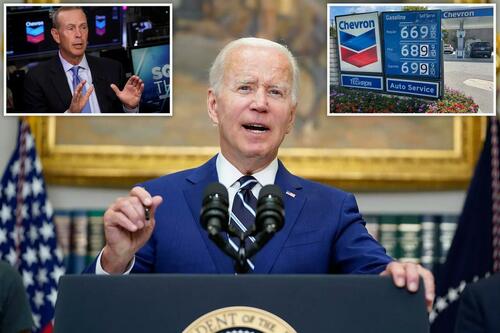 Here's President Biden's comments last year...
"My message to the American energy companies is this: You should not be using your profits to buy back stock or for dividends. Not now, not while a war is raging," Biden said in October when the prevailing media narrative made him accountable for faster inflation, especially the elevated price of gasoline. Windfall profits, he insisted, should be used to increase production.

"Bring down the price you charge" at the pump "to reflect what you pay for the product," he said.

"You still make a significant profit; your shareholders will still do very well."
Chevron shares jumped almost 4% after hours on the news...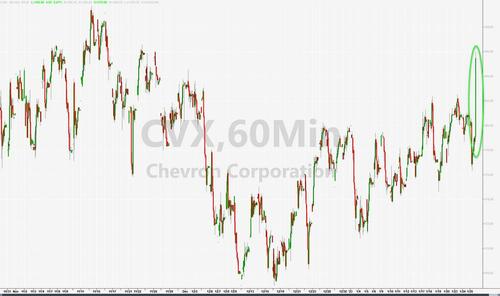 What will President Biden and Senator Warren have to say about that?
Oh and gas prices are about to start accelerating again very soon...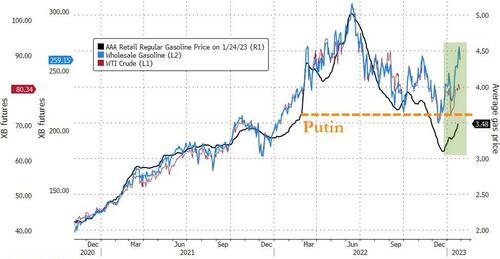 Who's fault will that be? We suspect it will rhyme with 'Bike Mirth'.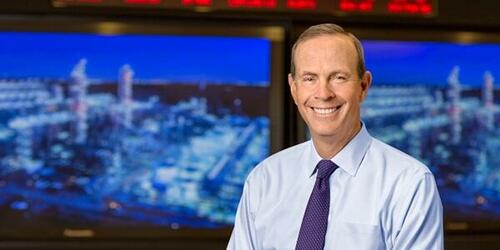 As a reminder, back in June last year, Chevron CEO Mike Wirth told Bloomberg TV that there will "never be another refinery built in the US" thanks to the state of policies around the world towards fossil fuels, adding that "unfortunately, what we have seen since January 2021 are policies that send a message that the Administration aims to impose obstacles to our industry delivering energy resources the world needs."
Wirth previously commented that even though renewables, such as wind and solar, have been invested heavily by Western governments over the last two decades to decarbonize grids, fossil fuels still are a large percentage of power generation, adding politicians really need to hold an "honest conversation" about the energy crunch before things worsen.
"The conversation [about energy] in the developed world for sure has skewed towards climate, taking affordability and security for granted.

"The reality is, [fossil fuel] is what runs the world today. It's going to run the world tomorrow and five years from now, 10 years from now, 20 years from now."
This was all triggered by the Biden administration's aggressive blame campaign - telling Americans that high prices at the pump are due to corporate greed by oil companies, and not his administration's haphazard energy policies. The new offensive included a letter to Big Oil execs threatening them with forced production quotas, windfall taxes, and/or price-caps.
Tyler Durden
Wed, 01/25/2023 - 16:48