Chip Sales Plunge In China, Buffeting Global Industry
Authored by Anne Zhang and Lynn Xu via The Epoch Times (emphasis ours),
Chip sales in China have tumbled at a whopping rate, as productivity in the semiconductor-related sector has contracted dramatically, indicating that the country's manufacturing industry is shrinking, according to the latest industrial report.
The Washington-based Semiconductor Industry Association (SIA) released data on Jan. 9 indicating that compared to the same period in 2021, China's chip sales plummeted by 21.1 percent in November of 2022. Meanwhile, in the United States, chip sales rose by 5.2 percent; sales in Europe increased by 4.5 percent year-on-year; and sales in Japan went up by 1.2 percent.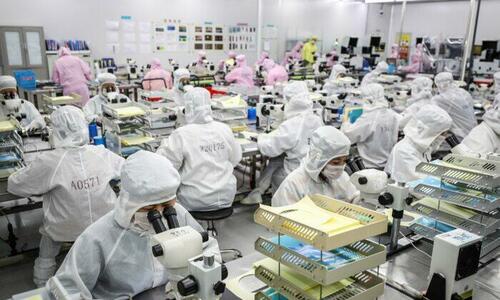 China's Industrial Recession Buffets Global Data
According to SIA statistics, in 2021, China alone made up $192.3 billion, or 34.6 percent, of $555.9 billion in global semiconductor industry sales, ranking first in the world.
As the world's largest chip market, the Chinese market's sharp decline has dragged down the yield of the global industry, with November 2022 seeing global semiconductor industry sales slide to $45.5 billion. That is 2.9 percent less than the previous month and 9.2 percent less than the same period of the previous year, respectively.
"Global semiconductor sales decreased in November [2022], largely due to market cyclicality and macroeconomic headwinds," said John Neuffer, president and CEO of SIA.
The SIA represents most U.S. semiconductor companies and nearly two-thirds of non-U.S. semiconductor companies.
Chip Imports Decline
China's chip imports have faced a serious decline since last October when the United States imposed sanctions on Chinese semiconductor companies.
Chinese customs data showed that China imported 40.5 billion integrated circuits in November 2022, a 25.3 percent drop from 54.22 billion units in November 2021.
Last October, the United States issued a semiconductor and equipment export control order against the Chinese Communist regime. The new ban restricts exports to China of logic chips below 14/16 nanometres, DRAM memory chips below 18 nanometres, and NAND flash memory chips above 128 layers, as well as related manufacturing equipment.
The move could be a heavy blow to a wide range of manufacturing areas, including automobiles, mobile communications equipment, and computers.
Industry Output Declines
In November 2022, China's output of microcomputer equipment plunged by 27.9 percent; and mobile communication handheld devices dropped 13 percent, including a 19.8 percent decline in the production of smartphones from the same period last year, according to data released by China's Statistical Bureau.
In addition, the manufacturing of railroads, ships, aerospace, and other transportation equipment, computer, communication, and electronic equipment, and general equipment manufacturing declined 0.9–2.9 percent year-over-year.
Manufacturing Prospects Fall to Record Low
A Purchasing Managers' Index (PMI) reading below 50 indicates a contraction in manufacturing and service sectors, according to industrial statistics methods. This gloomy data was seen for most of last year in China.
China's Bureau of Statistics published a report on Dec. 31 saying that China's PMI remained under 50 for most of last year, with the exception of January, February, June, and September, which were slightly higher than 50. In the fourth quarter of last year, China's PMI fell sharply for three consecutive months, with its December PMI hitting a record low of 47.
Read more here...
Tyler Durden
Tue, 01/24/2023 - 21:25