Meta Welcomes Neo-Nazi Azov Regiment Back On Facebook, Removes "Dangerous Organization" Listing
Days ago Facebook, which is now Meta, announced it is welcoming Ukraine's Azov Regiment to its platform. Azov had up until recently, and throughout the Russian invasion of Ukraine, been on Meta's of "dangerous organizations" list. 
It was on this banned list because the militia's members regularly display Nazi symbols and signs on their uniforms and as part of the their media content. But now, pro-Azov content can be freely posted, and the group can create its own official accounts on Facebook and Instagram for the first time.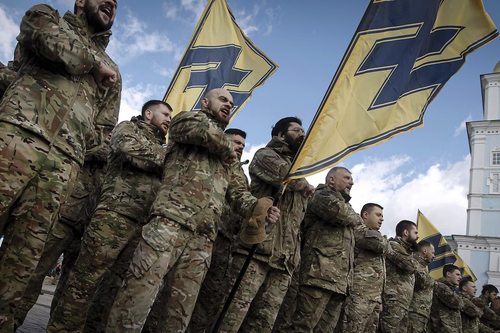 The Washington Post recently detailed that the change "will allow members of the Azov Regiment to create accounts on Facebook and Instagram and post content without fear of it being removed unless it breaks the company's content rules." Additionally, "The move will also enable other users to explicitly praise and support the group's work."
The company headed by Mark Zuckerberg still sought to emphasize that "Hate speech, hate symbols, calls for violence and any other content which violates our Community Standards are still banned, and we will remove this content if we find it."
Ukrainian officials have especially since the summer lobbied hard for Facebook/Meta's Oversight Board to loosen up its restrictions on Azov, saying it was 'unfair' and that it's keeping Ukrainian media organizations from sharing accurate information about the war in real-time.
Exclusive: Meta told the Kyiv Independent that the U.S. tech giant, owner of Facebook, Instagram, and WhatsApp, no longer designates Azov Regiment as a "dangerous organization."

Meta to allow publishing content about the Azov Regiment and its members. https://t.co/lU5CD9Zo1C

— The Kyiv Independent (@KyivIndependent) January 19, 2023
Facebook's changing approach started about a year ago, when it began allowing some pro-Azov posts in instances where they were fighting the Russian invasion, as The Intercept reported in Feb. 2022:
According to internal policy materials reviewed by The Intercept, Facebook will "allow praise of the Azov Battalion when explicitly and exclusively praising their role in defending Ukraine OR their role as part of the Ukraine's National Guard." Internally published examples of speech that Facebook now deems acceptable include "Azov movement volunteers are real heroes, they are a much needed support to our national guard"; "We are under attack. Azov has been courageously defending our town for the last 6 hours"; and "I think Azov is playing a patriotic role during this crisis."

The materials stipulate that Azov still can't use Facebook platforms for recruiting purposes or for publishing its own statements and that the regiment's uniforms and banners will remain as banned hate symbol imagery, even while Azov soldiers may fight wearing and displaying them. In a tacit acknowledgement of the group's ideology, the memo provides two examples of posts that would not be allowed under the new policy: "Goebbels, the Fuhrer and Azov, all are great models for national sacrifices and heroism" and "Well done Azov for protecting Ukraine and it's white nationalist heritage."
Azov's formal Facebook ban goes back to 2019, when the US social media giant acknowledged it as a hate group.
An example of the type of imagery that's long filled Azov social media channels in general...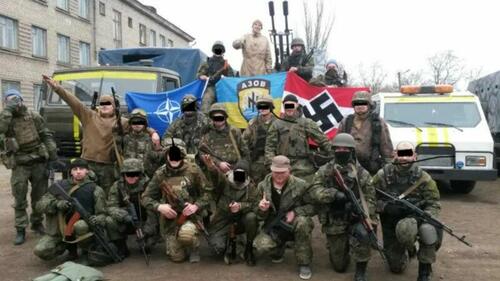 Oops... from Bellingcat in 2020:
Now that Azov is fully free to create accounts and post on Facebook, one wonders what changed? After all, there are still endless examples of Azov members sporting neo-Nazi imagery, as well as ongoing public displays of support for historic Nazi collaborator Stepan Bandera.
Tyler Durden
Tue, 01/24/2023 - 23:05