'Polling Earthquake': Austria's Anti-Immigration Freedom Party (FPÖ) Is Now Country's No.1 Party
Authored by John Cody via Remix News,
Austria's right-wing Freedom Party (FPÖ), known for its strict stance on immigration and opposition to Russia sanctions, is now the top party in Austria once again after seven years.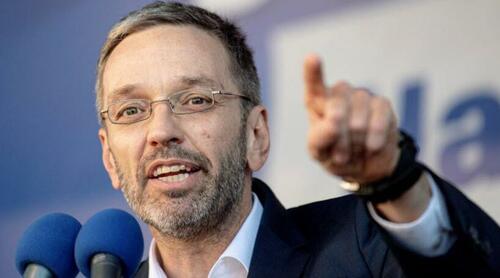 Described as a "polling earthquake" by Austrian newspaper Heute.at, the party would win 28 percent of the vote, according to the monthly poll conducted by Unique opinion research Institute for news magazine Profil.
At the same time, the Social Democrats (SPÖ) lost 2-percentage points, dropping to 24 percent. SPÖ fell even farther on the question of chancellor, with only 12 percent of respondents say they would vote for Pamela Rendi-Wagner, while last month that was 15 percent.
Currently, the FPÖ, led by Herbert Kickl, has a 4-point lead over SPÖ. Kickl has gained in popularity, with 17 percent saying they would vote for him, while in December, only 15 percent said they would.
What is fueling the swing towards the FPÖ?
Austria has seen a record number of asylum applications in 2022. In fact, asylum applications nearly tripled from 2021, reaching nearly 60,000. The news has shocked Austria and led to a sharp backlash from a population highly skeptical of mass immigration. The FPÖ, more so than any other major party, has made immigration restriction central to their platform.
At the same time, the FPÖ party is the only major party opposed to Russian sanctions, which it blames for creating inflation and economic turmoil in the Austrian and European economy. Many Austrians are sympathetic with this position.
"It's finally time to appear in the EU and say: These sanctions harm us much more than Putin. Our people have to foot the bill for them," said deputy FPÖ chairwoman Dagmar Belakovich in the plenary session of the National Council last year.
The party's leader, Herbert Kickl, has also pointed to the absolute necessity of Russian energy for Austria's households and businesses. He blames much of Austria's inflation woes to economic sanctions on Russia.
"If you were honest, you would have to say to the population: We can't do without this Russian oil and gas for a long time," said Kickl. 

"We need this cheap energy for households, for heating, for cooking, for hot water, for manufacturing companies." 
How do other parties fare?
The poll also showed that incumbent Chancellor Karl Nehammer is still the most popular pick to become chancellor, with 20 percent expressing confidence in him. His Austrian People's Party (ÖVP) would receive 22 percent of the vote.
The Greens stand at 12 percent while the liberal NEOS remain unchanged in fourth place with 9 percent.
Austria is currently governed by a coalition of the ÖVP and SPÖ.
The poll also asked what people thought should happen to climate protesters of the Last Generation blocking roads. The results show 42 percent of Austrians were in favor of fines, 31 percent for prison sentences and only 19 percent for not punishing the activists.
Tyler Durden
Wed, 01/25/2023 - 02:00