Short-Seller Hindenburg Targets India's Richest Man For "Brazen Stock Manipulation"
Short seller Hindenburg Research, best known for publishing a scathing report on EV startup Nikola, which brought down the founder, is pursuing its biggest target yet: India's richest man. 
Late Tuesday, Hindenburg issued a lengthy report titled "Adani Group – How The World's 3rd Richest Man Is Pulling The Largest Con In Corporate History."
NEW FROM US:

Adani Group – How The World's 3rd Richest Man Is Pulling The Largest Con In Corporate Historyhttps://t.co/JkZFt60V7f

(1/x)

— Hindenburg Research (@HindenburgRes) January 25, 2023
"Today we reveal the findings of our 2-year investigation, presenting evidence that the INR 17.8 trillion (US $218 billion) Indian conglomerate Adani Group has engaged in a brazen stock manipulation and accounting fraud scheme over the course of decades," the report said. 
Gautam Adani, Founder and Chairman of the Adani Group, has soared up the Bloomberg Billionaire's Index in the past year to become the fourth-wealthiest person in the world.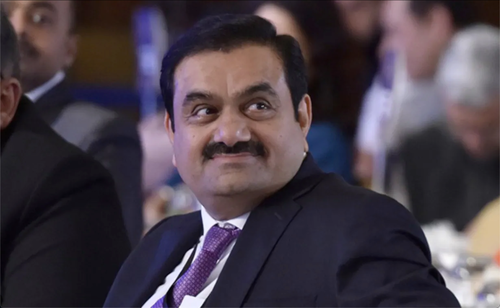 Adani "has amassed a net worth of roughly $120 billion, adding over $100 billion in the past 3 years largely through stock price appreciation in the group's 7 key listed companies, which have spiked an average of 819% in that period," the report said.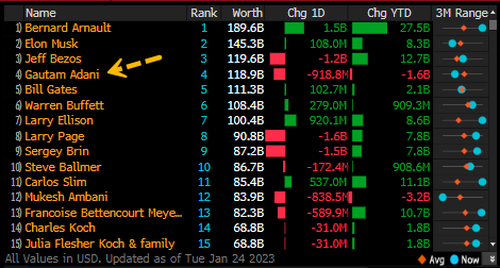 Hindenburg noted that Adani Group had already been investigated for corruption, money laundering, and theft of taxpayer funds. They allege the companies are extremely overvalued: "The 7 key listed companies have 85% downside purely on a fundamental basis owing to sky-high valuations."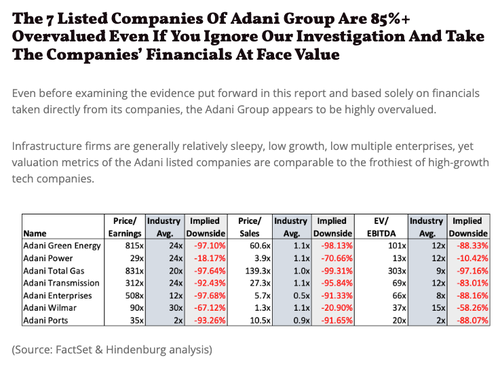 Hindenburg said it was shorting Adani Group companies through US bonds and non-Indian-traded derivative instruments. They noted their short thesis was developed after speaking with "dozens of individuals, including former senior executives of the Adani Group, reviewing thousands of documents, and conducting diligence site visits in almost half a dozen countries." 
Bloomberg provided a quick snapshot of Hindenburg's main allegations:
Identified 38 Mauritius shell entities controlled by Adani's brother, Vinod Adani, or his close associates plus entities controlled by him in other tax havens.
The offshore shell network seems to be used for earnings manipulation.
Adani Group has previously been the focus of 4 major government investigations relating to allegations of fraud.
Adani Enterprises and Adani Total Gas Ltd. appear to be audited by a tiny firm, with no current website, only 4 partners and 11 employees which has audited just one other listed firm.
The auditor "hardly seems capable of complex audit work" when Adani Enterprises alone has 156 subsidiaries and many more joint ventures.
The seven India-listed companies, which include Adani Enterprises and Adani Transmission, fell between 1% and 8% on Wednesday. Even India's main equity index slid about 1% S&P BSE Sensex. 
Avinash Gorakshakar, head of research at Profitmart Securities, told Reuters that the slide in Indian stocks was due to a "combination of factors - the report on Adani group stocks, the monthly expiry of January derivatives series and the fading off of the pre-budget rally." 
Adani Group dismissed the allegations. They accused Hindenburg of 'sabotage' ahead of a planned $2.5 billion stock sale on Friday.
"We are shocked that Hindenburg Research has published a report ...without making any attempt to contact us or verify the factual matrix," Jugeshinder Singh, Adani Group's chief financial officer, said in a statement. He said the short report was full of misinformation and "baseless and discredited allegations."
Last year, Adani launched a hostile takeover of Indian broadcaster NDTV to build a media empire. The billionaire might use his media outlet to hit back at Hindenburg's short attack. 
Tyler Durden
Wed, 01/25/2023 - 11:45