Tesla Beats On Top And Bottom Line As Margins Slump
As previewed earlier, analysts are expecting Tesla to post earnings of $1.02 per share, and $24.1 billion in revenue, with the stock having been hammered in early 2023 before rebounding solidly over the past 2 weeks. Needless to say, 2022 was ugly for Tesla: it's share price tumbled 65% during the worst ever year for the company, taking the automaker out of the rarefied trillion-dollar-valuation club, and cost it the position of the fifth-biggest company on the S&P 500 Index. Turning back to the earnings, focus will be around the company's lackluster Q4 delivery figures which, although a new record, fell short of Wall Street expectations. There will also be a looming question about margins with Tesla's recent price cuts, though pressure from the sales may not show up until Q1 2023 figures.
Adjusted EPS: $1.02
Revenue estimate $24.07 billion
Automotive gross margin estimate +28.4%
Gross margin estimate 25.4%
Capex estimate $1.9 billion
Free cash flow estimate $3.12 billion
Cash and cash equivalents estimate $22.71 billion
This will also be the first earnings call since Musk completed his acquisition of Twitter: it will be interesting if Musk will will (or will allow) questions about the impact of that decision on Tesla's brand. Meanwhile, Tesla continues to grow the number of owners who are trying the beta version of its so-called "Full Self-Driving" software, so expect to hear more about that tonight. That's a crucial technological milestone for Tesla, but also one that could unlock more than a billion dollars of deferred revenue at some point. That said, Tesla has promised fully autonomous cars for the better part of a decade now.
So with all that in mind, here is what Tesla reported moments ago (pdf link):
Revenue was a record $24.318BN, up 37% Y/Y, beating the consensus estimate of $24.1BN
Adj EPS $1.19, up 40% Y/Y, and also beating the consensus estimate of $1.12
Free cash flow $1.42BN, down 49% Y/Y, and missing estimates of $3.13BN
Capital expenditure $1.86 billion, up 3%, missing estimates of $1.9 billion
Bottom line: Tesla reported better-than expected profits amid growing skepticism about the auto industry, and signaled strength as it faces growing questions about demand for its all-electric vehicle lineup.
And while the top and bottom lines both beat, it came at a cost to margins: in Q4, Tesla's Automotive Gross Margin was +25.9%, down a whopping 466bps from 30.6%,  and missing the estimate of +28.4%. The reason for this sharp drop in margins most likely has to do with the company's creeping price cuts and still rising commodity costs. The drop in the automotive gross margin also hit the total gross margin, which dropped to 23.8% vs. 27.4% y/y, and also missed the estimate of 25.4%.
This is how the company spun the shrinkage in margins: "our ASPs have generally been on a downward trajectory for many years. Improving affordability  is necessary to become a multi-million vehicle producer."
Visually: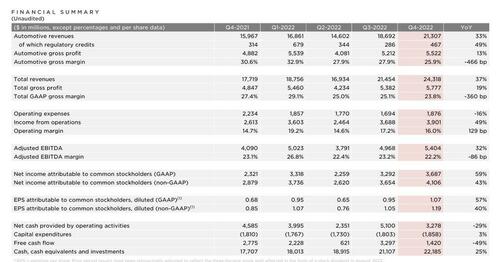 Of note: the company's regulatory credits added $467 million to revenue, meaning the difference between the miss and a beat; the number was a 49% increase Y/Y, and the third highest quarter for reg credits on record.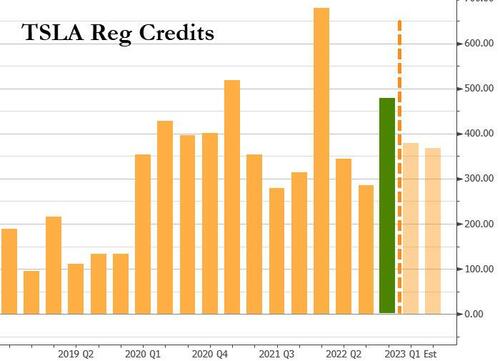 It wasn't just reg credits however: Tesla also recognized a material $324 million of FSD revenue this quarter. The company has said that software will be a growing part of revenue going forward. By recognizing such a big chunk of deferred revenue thanks to expanding access to FSD Beta, Tesla's deferred revenue declined quarter-on-quarter for the first time in a while, though it's still sitting pretty high at $1.74 billion.
And speaking of other liabilities, Tesla saw its second straight quarterly drop in customer deposits, which dropped modestly to $1.06 billion from $1.083 billion, after hitting an all-time high of $1.1 billion exiting Q2 in 2022.
Like most other companies, Tesla was also impacted by negative FX impact, which hit revenue by $1.4BN, and profit by $300MM: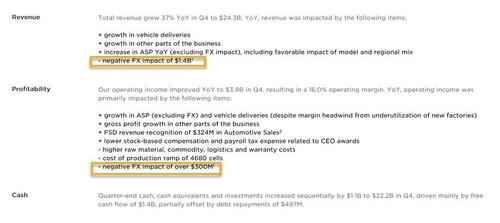 Some other headlines from the report:
Cybertruck on Track to Begin Production Later This Yr
Next Generation Vehicle Platform Is Under Development
Will Share Added Details at March Investor Day
Tesla said that in Q4, each of its factories produced a record number of vehicles and continued a gradual shift "toward a more even regional mix of production and deliveries."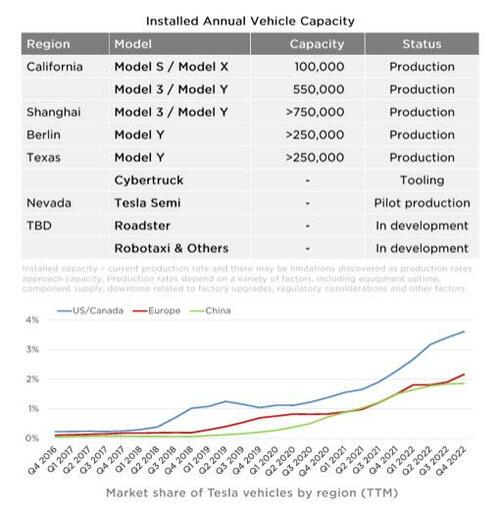 Tesla also confirmed it's still on track to start building the Cybertruck in Austin later this year and adds that it will discuss more details of its next-generation vehicle platform at the upcoming investor day on March 1.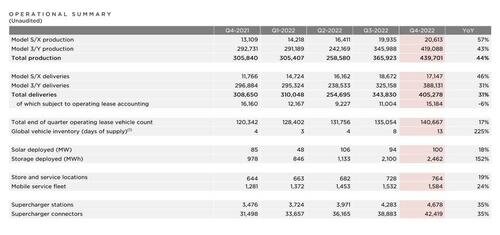 The company also said that it expect to remain ahead of its Long-Term 50% average annual growth in vehicle deliveries. The  EV market leader said it would increase output "as quickly as possible"and said it is on track to deliver about 1.8 million vehicles this year.  To meet this output increase, Tesla doubled its production capacity in 2022 and increased its production each quarter. According to Bloomberg, its annualized production estimate for the fourth quarter was a new record, and near the company's total production capacity for the first time.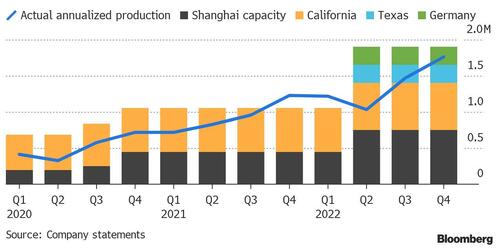 To be sure, the overall tone in the latest letter was quite optimistic in general: "Our relentless cost control and cost innovation is why we believe that no other OEM is better equipped to navigate through 2023, and ultimately succeed in the long run, than we are."
Elsewhere, Tesla confirmed it's still on track to start building the Cybertruck in Austin later this year and adds that it will discuss more details of its next-generation vehicle platform at the upcoming investor day on March 1.
Tesla said that it has released FSD Beta to nearly all customers who bought it (nearly 400,000).
Shifting away briefly from the generally solid automotive results, the company also had a solid quarter for solar deployments: in Q4 the company deployed a total of 100 megawatts. That's above the 94 megawatts of 3Q, but below the 106 megawatts in 2Q. Still, that's about double what Tesla had been doing per quarter before last year
Storage deployed inched up, this time to 2,462 megawatt-hours in 4Q. Tesla is a clear industry leader in batteries. Tesla says demand for its storage products exceeds its ability to supply.
While the company is now profitable (and FCF positive), few are worried about it running out of cash, yet it is interesting that Tesla entered into a credit agreement on Jan. 20 that provides for a senior unsecured revolving facility of up to $5 billion, and the company may increase total commitments by up to an additional $2 billion. Underwriters are Citibank, (administrative agent) and Deutsche Bank Securities. Naturally, with substantial cash (over $22BN), no loans were outstanding under the Credit Facility as of January 25, 2023
The market reaction was surprisingly muted, and after the stock dumped and pumped after the results, it has remained largely unchanged from its closing level around $144. As Bloomberg notes, the lack of a big stock reaction in Tesla after the results may come as a surprise to some market participants: options pricing implied a possible 11% move in the shares in either direction, after the earnings. It got 0%.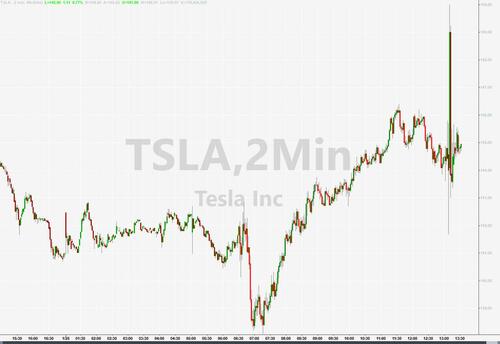 Attention now turns to the earnings call where Musk may or may not be present.
Tyler Durden
Wed, 01/25/2023 - 16:47