Tesla Earnings Preview: Focus Is On Margins And Guidance
Twitter will report earnings after the bell today, in what will be one of the most anticipated earnings reports of the company's tenure as a publicly traded entity. Tesla shares have rebounded slightly over the past 2 weeks after plunging for most of 2022 and the beginning of 2023. 
Focus will be around the company's lackluster Q4 delivery figures which, although they were record numbers, fell short of Wall Street expectations. There will also be a looming question about margins with Tesla's recent price cuts, though pressure from the sales may not show up until Q1 2023 figures. 
Wall Street is expecting Q4 Revenue of $24.07 billion and Q4 Adjusted EPS of $1.13. To put that expectation in context with TSLA's share price:
Additional estimates, provided by Bloomberg, include:
Revenue estimate $24.07 billion

Free cash flow estimate $3.12 billion

Automotive gross margin estimate +28.4%

Gross margin estimate 25.4%

Capex estimate $1.9 billion

Cash and cash equivalents estimate $22.71 billion
And for guidance, Bloomberg is looking for Q1 Automotive gross margin estimate +25.3% and full year guidance as follows: 
Automotive gross margin estimate +26.7%

Capex estimate $7.9 billion

Deliveries estimate 1.9 million

Production estimate 1.9 million
2022 - and Q4 in general - was volatile, to say the least, for Tesla.
Deliveries widely disappointed the market to start the year. Tesla announced earlier this month that it had delivered a record 405,278 vehicles for the Q4 2022 quarter. The number marked a record for the company, but came in below most Wall Street estimates, even some that were revised lower. Consensus estimates for deliveries stood at 420,760 into the report, according to Bloomberg. "In 2022, vehicle deliveries grew 40% YoY to 1.31 million," the company's press release said. This falls short of the 50% growth figure the company had once projected for the year.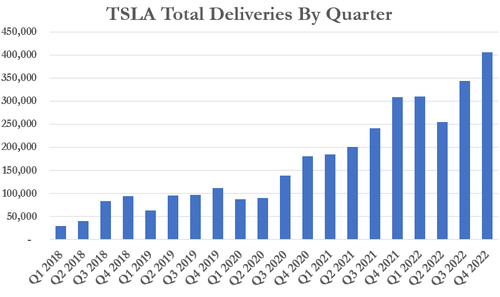 Tesla commented earlier this month: "We continued to transition towards a more even regional mix of vehicle builds which again led to a further increase in cars in transit at the end of the quarter. Thank you to all of our customers, employees, suppliers, shareholders and supporters who helped us achieve a great 2022 in light of significant COVID and supply chain related challenges throughout the year."
The breakdown of vehicles included 388,131 Model 3 and Model Y deliveries, which fell short of the 405,597 estimated:
And 17,147 Model S/X deliveries, which fell short of the 18,578 estimate: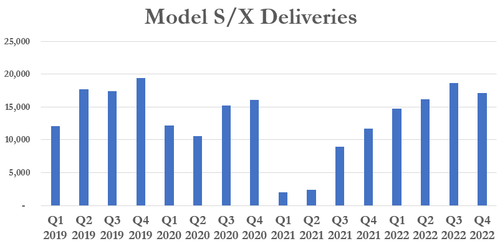 As we noted days ago, short sellers have been in the drivers seat with Tesla to start 2023. The company's stock is still up almost 500% over the last five years - but 2022 saw a -65% drop in the equity's price which has short sellers feeling like they are back in the driver's seat. And according to Yahoo Finance/Bloomberg, short sellers reaped mark to market profits in 2022 of about $17 billion. Citing data from S3 Partners, the report said that Tesla has lost about $670 billion in market value last year.
Tesla has also been dealing with a flood of protestors in both the U.S. and China, complaining about the company's recent swift price cuts. Customers were demanding rebates and credits, claiming that they had overpaid for the same cars that weren't marked down at the time they were purchased. Prices of Tesla vehicles in China are now between 13% and 24% lower than they were in September.  About 200 recent buyers of the Tesla Model Y and Model 3 made their way to a Tesla delivery center in Shanghai to protest.
Just days ago we wrote about angry U.S. customers complaining about the same. One 32 year old Tesla "fan girl" named Marianne Simmons told Bloomberg: "I feel like I got duped. I feel like I got taken advantage of as a consumer. Right off the bat, I'm out $13,306. It's such a large reduction that it's going to affect a lot of people who just bought a vehicle."
Ivan Drury, director of insights for research website Edmunds.com told Bloomberg: "For any existing owner it's a kick to the teeth. Anyone who bought a Tesla recently will feel an immediate impact and wish they leased it." 
Another new Tesla owner, Andrew Checketts, from Santa Barbara, California, told Bloomberg that Tesla was "hounding" him about discounts at the time he made his purchase - but if he had waited, he could have saved far more money. He said: "I have solar scheduled to be installed soon. Really having a hard time giving Tesla any more of my money and can't even look at the car this morning."
Recall, Tesla had also suspended operations at its Shanghai plant for a portion of December. The EV maker was expected to halt production - as we noted in a previous article - but continued swirling questions about demand had surfaced after the company shut down operations at the key location earlier than expected. Back on December 9th we wrote that the company was shutting down operations late this month due to upgrades at the plant and waning consumer demand.
At the end of December, Morgan Stanley had called Tesla's sell off an "opportunity". "We believe 2023 is shaping up to be a 'reset' year for the EV market where the last 2 years of demand exceeding supply will be substantially inverted to supply exceeding demand. Within this environment, we believe players that are self-funded (non-reliant on external capital funding) with demonstrated scale and cost leadership throughout the value chain (from manufacturing to up-stream material supply) can be relative winners," Jonas wrote.
"We believe Tesla may be in position to extend its lead vs. the EV competition in FY23 (both legacy and start-up) even before consideration of IRA (Inflation Reduction Act) benefits where Tesla also stands out as the biggest potential winner," he continued. 
Whether or not Musk will be able to continue pulling off Tesla's exceptional growth is a question that will be answered in minutes when the company reports. A conference call will follow shortly thereafter. 
Tyler Durden
Wed, 01/25/2023 - 14:48