Turkey Angrily Cancels Key NATO Talks With Sweden & Finland
As expected Turkey on Tuesday announced it has indefinitely postponed any future rounds of talks with Sweden and Finland regarding their NATO membership bids. 
A major meeting was expected to take place in Brussels in February, but this has been dramatically canceled, Turkish state broadcaster TRT reported based on diplomatic sources.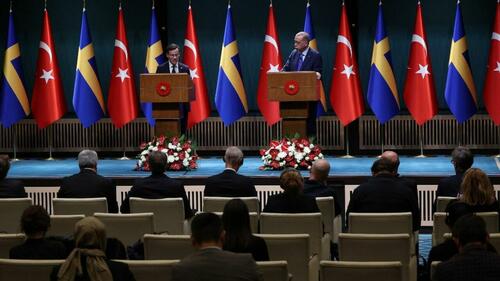 NATO Secretary General Jens Stoltenberg was supposed to attend the talks, and when it was planned the two countries were widely perceived as very close to their NATO accession being approved.
President Erdogan himself on Monday lashed out at Sweden in particular, blasting Swedish authorities for allowing a far-right activist to burn a Quran in front of the Turkish embassy in Stockholm over the weekend. 
Erdogan stated bluntly that Sweden should no longer expect support from Turkey to join NATO given it allows "terrorists" in its midst. Turkey has also expressed deep dissatisfaction at both Nordic countries' failure to crack down on Kurdish groups banned by the Turkish state.
Amid continuing Turkish anger, Finnish Foreign Minister Pekka Haavisto has said a diplomatic "time-out" is now needed in order to reassess. 
At the same time, Finland has suggested it could seek NATO membership without Sweden, after the two earlier indicated a joint membership bid process.
Tyler Durden
Tue, 01/24/2023 - 21:45