US Should Be More Conciliatory To China: Bill Gates
Authored by Daniel Y. Teng via The Epoch Times (emphasis ours),
Tech billionaire Bill Gates says the United States and Australia should adopt a more conciliatory approach to working with China on issues such as climate change.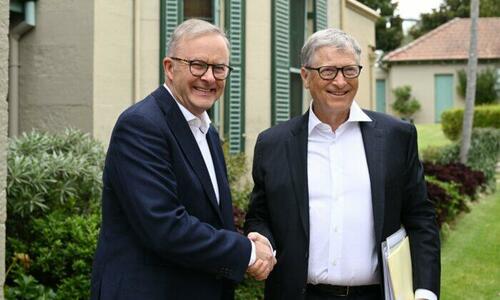 Gates praised the Asian country's economic growth.
"I see China's rise as a huge win for the world … the current mentality of the U.S. to China—and which is reciprocated—is kind of a lose-lose mentality," he told the Lowy Institute in Sydney, Australia on Jan. 23.
"That could be very self-fulfilling in a very negative way," said Gates, noting it could impact medical research and progress on climate change.
"We're all in this together. We're humans. We innovate together and we have to change the modern industrial economy together in a pretty dramatic fashion," the Microsoft founder said, in comments obtained by AAP.
As Gates maintains hopes for China's role in pushing forward humanity, the Chinese Communist Party continues to face scrutiny for its reporting and transparency around COVID-19 infection and death figures, with the Chinese state claiming a number over 60,000 deaths from the most recent outbreak.
This figure has even prompted the state's lead propagandist, Hu Xijin, to question the data.
"The actual COVID-19 death toll in China since early December is definitely more than 60,000 because the official data only counted deaths at hospitals," he wrote on Twitter.
Peter Zhang, a researcher in the political economy of Asia, pointed to other figures which suggest a vastly different picture.
"A report by UK-based analytics company Airfinity estimated 3.7 million COVID-19 infections and 25,000 COVID-19 deaths in a single day on Jan. 13, bringing the total death toll to 584,000 since Dec. 7, 2022," he wrote in The Epoch Times.
"That data, experts fear, is just the tip of the iceberg. Some estimated that the death toll could reach 200 million to 400 million people, given the growing infection rate."
More Collaboration Between WHO and Governments: Gates
Meanwhile, Gates praised Australian authorities for keeping infection rates low.
"Some of the things that stand out are that Australia and about seven other countries did population scale diagnostics early on and had quarantine policies … that meant you kept the level of infection low in that first year when there were no vaccines," he said.
He also called for closer collaboration between governments and the World Health Organisation to deal with future pandemics.
Read more here...
Tyler Durden
Wed, 01/25/2023 - 12:49