Wash-Out, Rinse Weak-Hands, Repeat The Squeeze: Gold Rips As Equity Traders Buy The F**king Dip
The word of the day was "WTF" (or is that three words) as that term dominated the MSGs we got from traders everywhere as equity markets dumped and pumped today with Microsoft the flag-bearer for the WTF-iness.
Solid headline earnings sparked a bid after the close, but the CFO slashed the outlook and had nothing positive to say at all sending the mega-tech firm's share price reeling and extending into the cash close. But, as the 30-minute mark hit (10amET), dip-buyers swarmed back in and lifted Mr.Softy all the way back into the green...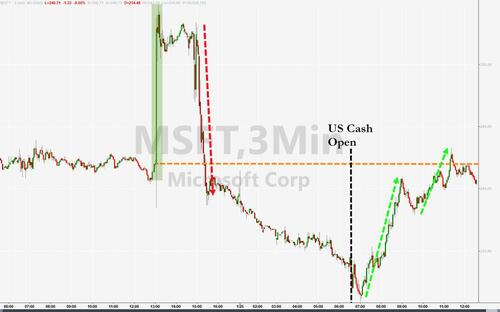 WTF indeed.
The S&P followed a similar path, reversing its downtrend at the 200DMA and surging back into the green...
All the majors followed a similar path today. sliding after the MSFT conference call, accelerating weakness during the European session, diving at the US cash open... and then panic-bid from 10amET onwards. Nasdaq was the only index that was unable to get back to unchanged intraday...
"Most Shorted" stocks puked at the open but at 10amET (no headline catalyst, sorry), everything went just a little bit turbo as 'most shorted' stocks squeeze all the way back to unchanged...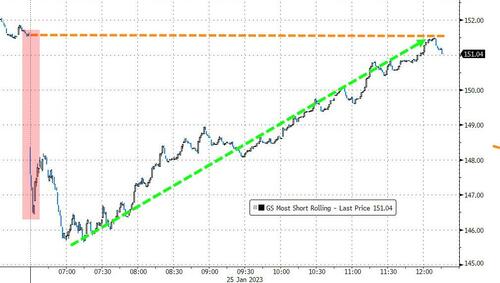 Source: Bloomberg
Bear in mind that, as Nomura's Charlie McElligott highlighted today, Equity CTA positioning recently swung back notably "long", and is now a potential source of 'supply' rather than squeeze higher ammunition...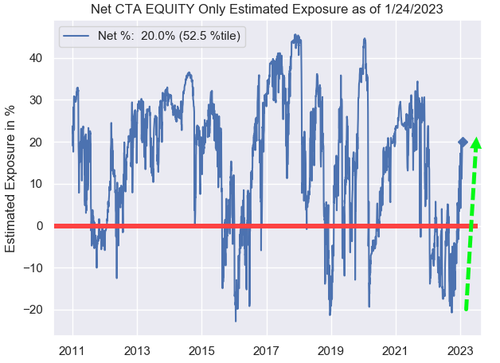 Additionally, a lot of positive $Delta has been added in recent days, especially in Nasdaq/QQQ options - now also a source of de-risking flows...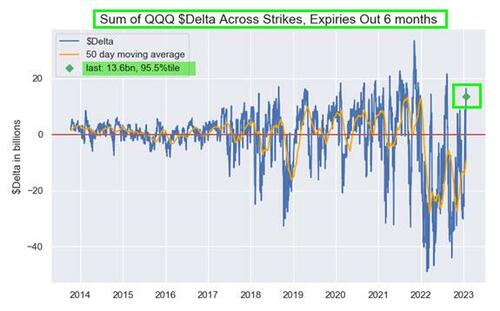 Before we move on from stocks, we note that Fed rate trajectory expectations slipped dovishly lower today, likely helped by BoC's "pause" comments...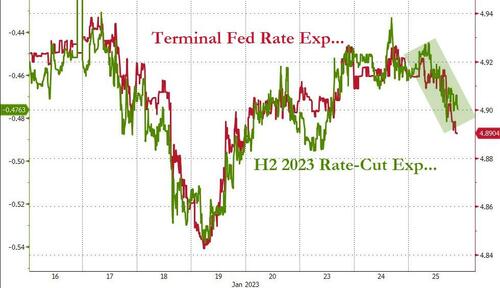 Source: Bloomberg
Treasuries were mixed today with the belly outperforming thanks to the strongest 5Y TSY auction ever while the longer-end of the curve saw yields end higher. All yields are lower on the week however with the wings outperforming (2Y, 30Y -3.5bps) while the belly is lagging (5Y very marginally lower)...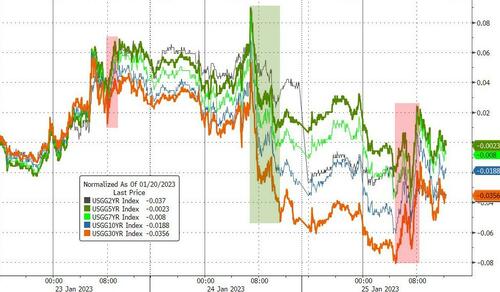 Source: Bloomberg
The dollar drifted lower today, stalling around the CPI lows...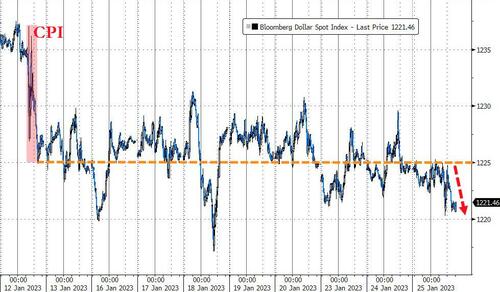 Source: Bloomberg
Bitcoin ended the day unchanged, rallying back up to $23,000 after some overnight weakness...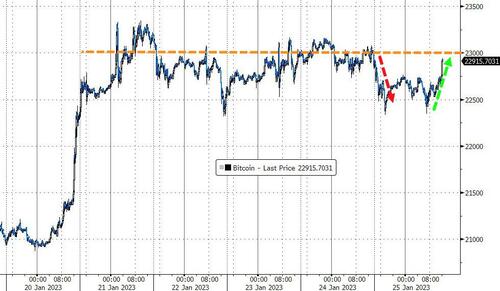 Source: Bloomberg
Gold surged back up to cycle highs after early weakness, almost tagging $1950 today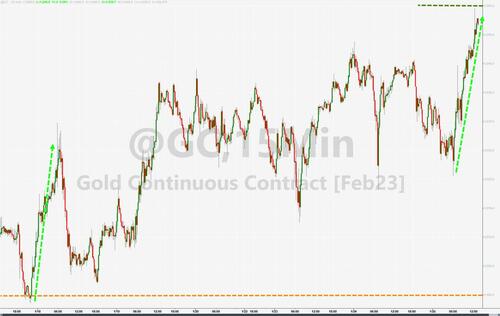 Hovering at some significant historical resistance levels...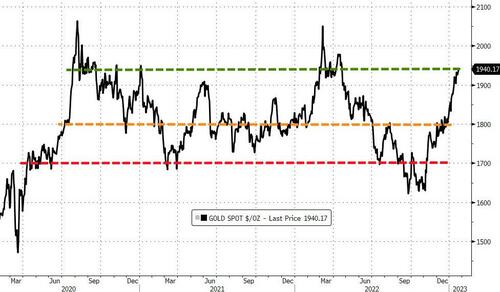 Source: Bloomberg
Oil prices ended higher after a choppy day with WTI finding support at $80...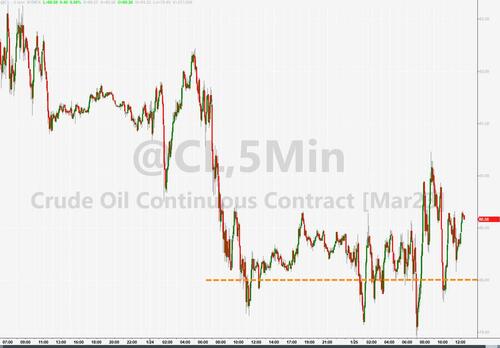 NatGas tumbled another 6% today, now at its lowest since June 2021...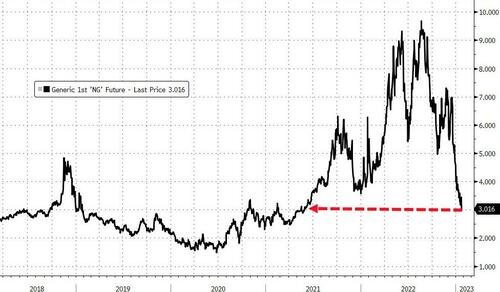 Source: Bloomberg
Finally, we note that while the S&P is back above 4000, forward-earnings-expectations remain elevated (decoupled?). However, we do also note that while US money supply has been weakening, our global money supply proxy (in USD) has surged back up near record highs...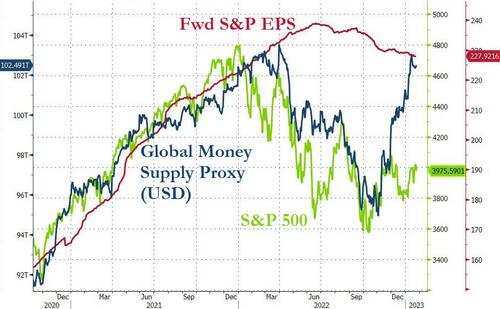 Source: Bloomberg
...and remember, all stimulus/money-supply is fungible.
Which we will probably need again soon to be able to afford gas prices at the pumps...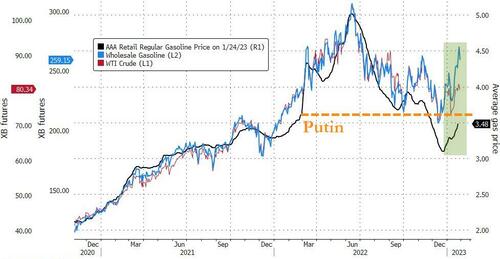 Source: Bloomberg
Get back to work Mr.Biden
Tyler Durden
Wed, 01/25/2023 - 16:01